This article discusses how you can get the multimedia content in your MP3 files to play on an Xbox 360 console. It will provide several different methods based on the multimedia support of the Xbox 360 console and may be updated regularly with Xbox 360 updates.
Introduction & Requirements
| | |
| --- | --- |
| Xbox 360 | Obviously you will need an Xbox 360 console for this article |
| ImgBurn (Optional) | If you want to play media from a disc, you can use ImgBurn to create it for the console. |
| TVersity (Optional) | TVersity is a media sharing application that supports the Xbox 360. |
What are MP3 files?
Well, does MP3 need an introduction at all? MP3, MPEG-1 Audio Layer III as it is properly titled, is a lossy audio compression format that has completely changed the way we listen to and manage our music collections. It is possible, with MP3 to compress an entire recording at excellent ratios while upholding quality. This is achieved by cutting out data from the original track; data that is least likely to change the audio quality from the perspective of a human ear.
Does Xbox 360 Support MP3 audio?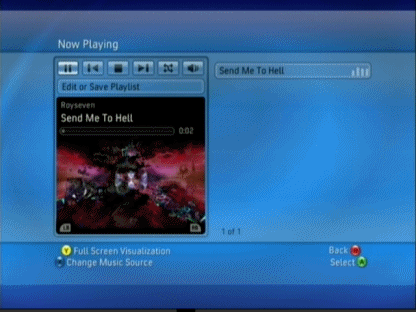 If the Xbox 360 did not support MP3 audio, then that would be a massive oversight by Microsoft. Of course it supports MP3 audio. The Xbox 360 is a Windows Media Extender Unit, if it couldn't play MP3 it would be a hell of a rip-off.
Of course, while we know it plays MP3, how can we get it to play? We have several options; you can pack a CD full of MP3 tracks and enjoy, you can pack a portable USB device full of MP3 and enjoy, or you can stream MP3 from your computer over a home (wired or wireless) network, giving your Xbox access to your entire MP3 catalogue.