This article shows how to play audio files you may have retrieved on the Internet with a .MPC extension. It covers several options including a fast solution (just download and play) and a more eloquent solution (setting up your PC to play MPC files more easily, using Windows Media Player and other common multimedia applications).

What is Musepack?
An audio file with the extension
.MPC
generally contains audio information created with the
Musepack
codec
. It is a
lossy compression
format like
MP3
, meaning that it does cut out parts of the audio data that cannot be fully retrieved again later to save space. It was originally based on the
MP2
audio format (had an earlier name of
MPEGPlus
) but several aspects have separated the two since.
The quality of Musepack, like
OGG Vorbis
, has often been touted as better than that provided by the more common MP3 format. This article will now show you several options, including several players and tweaks, to get your Musepack audio files playing on your computer.
Easiest Method - VideoLAN Client for Windows, MAC and Linux

With the VLC player, you can enjoy your Musepack audio files quickly. The player directly supports Musepack without the need for
DirectShow
filters or special codecs to be installed. If you are looking for a quick solution then this is certainly it, but if you want to look at other examples of these players or learn to play with Windows Media Player and store it in your Media Library, then read on.
You can get
VLC for Windows from this URL
.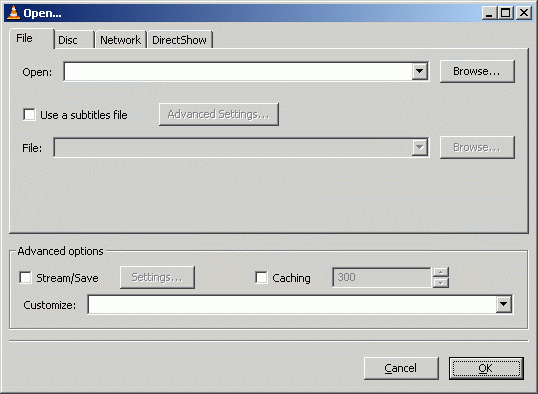 Click
File
and click the
Open File
option.
Now, click the
Browse
button next to the first white line at the top of the window with title "Open.." and navigate through your harddrive for the MPC file you wish to listen to and select it. After you have selected the file, click
OK
and VLC will start playing the MPC audio you chose.
For other Operating Systems...
Mac:
http://www.afterdawn.com/software/alternative_platforms/mac_software/vlc_for_mac.cfm
Linux:
http://www.afterdawn.com/software/video_software/video_players/vlc_linux.cfm
Foobar 2000 supports MPC directly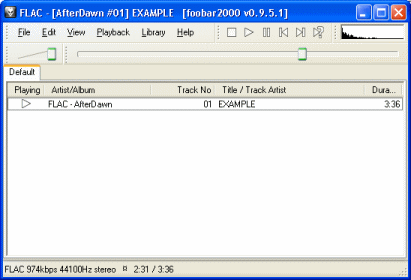 One of the most excellent audio players and converters available is Foobar 2000. It is available as a free download from
AfterDawn
and it natively supports the
Musepack (MPC)
format. It also will allow you to easily convert it to another format or edit the tag information.
Download
Foobar 2000
from AfterDawn at:
http://www.afterdawn.com/software/audio_software/audio_players/foobar2000.cfm
Play in DirectShow players such as Windows Media Player?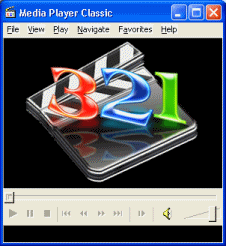 It is totally possible to play MPC files in Windows Media Player and technically any DirectShow-based player. Before we look at Windows Media Player directly, let's take a look at
Media Player Classic
because with Windows Media Player we will also need to install a plug-in to read the MPC metadata correctly.
The first thing we need is a DirectShow filter, and there is a perfectly good one available called Radlight MPC DirectShow filter.
Download it from:
http://www.afterdawn.com/...
Download
Media Player Classic
from:
http://www.afterdawn.com/software/video_software/video_players/media_player_classic.cfm
Install RadLight MPC DirectShow Filter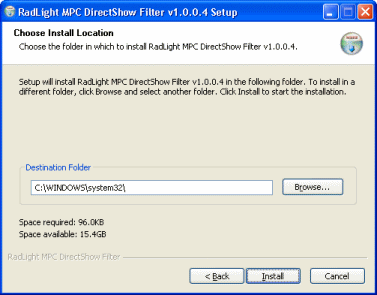 When you download the RadLight MPC DirectShow Filter, run the installer. It is a simple installer, tick the box immediately to accept the agreements and click Next until it is finished.
This will install the files necessary to make MPC files work in DirectShow-based players, which include Media Player Classic and Windows Media Player. Test out an MPC file.
There is one more step to perform however. Windows Media Player cannot directly support the Musepack metadata (information on the tracks) and so the WMP Tag Support Extender must be installed.
Download
WMP Tag Support Extender
from:
http://www.afterdawn.com/...
Install WMP Tag Support Extender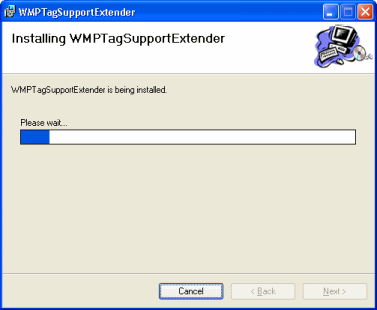 When you have downloaded
WMP Tag Support Extender
, run the installer. It is just a basic install and requires you to just clicking
Next
until it is complete, at which time, you can click Close.
Now we must configure
Windows Media Player
to use this add-on.
WMP Tag Support Extender - 1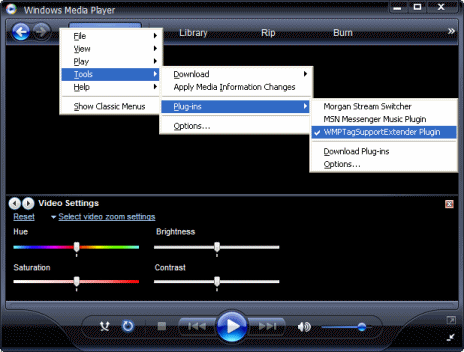 Open Windows Media Player. If you do not have the latest Windows Media Player, this might not work.
Download Windows Media Player by clicking here.
Now open Windows Media Player and you should see something similar to the picture located to the right of this text (clicking will enlarge). Right-click somewhere on the top bar (I have right-clicked beside the Now Playing button) and scroll your pointer down to
Tools --> Plug-ins --> WMPTagSupportExtender Plugin
. This usually is already selected.
Make sure that there is a tick beside this plug-in or else Windows Media Player won't use it while playing MPC audio. Now there is another bit of configuring to do. Again, right click in the same spot, navigate to
Tools --> Plug-ins --> Options
and left-click on
Options
. This will open Windows Media Player Options in the
Plug-in
tab.
WMP Tag Support Extender - 2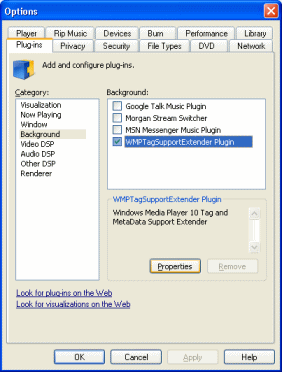 In the Plug-in tab in options you will see a list underneath
Category
. As you can see in my picture (click to enlarge) you need to click
Background
. Now from the list that appears on the right, click on
WMPTagSupportExtender
(don't untick the box, click the text) and then move the mouse below to the
Properties
button and click it. This will now open a new window.
WMP Tag Support Extender - 3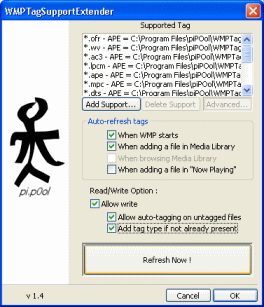 Now as you can see in my picture (click to enlarge), a new Window will pop-up with settings for
WMP Tag Support Extender
. From here you can change some of the Read/Write options for tags. I recommend selecting
"Allow Write"
and then selecting both the options available to you below it.
Once you are done, click
"Refresh Now"
to refresh your library, then click OK. This should now work.
Note:
We have had trouble getting tags to work with the latest version of
Windows Media Player 11
, even trying the register DLL workaround. Hopefully an update will fix this.
Finally
Hopefully after reading this guide your Musepack files now work flawlessly. If you need extra help, please visit our
Discussion Forums
for assistance.
Version History
v1.0
- First published by
Dela
(08/05/2008