In the following guide you will learn how to use the free, fast and easy program HJSplit to split your files into "parts" at any size you want. Whether you want to upload to Rapidshare, Sendspace or MegaShares as a free user, or your email has limits on how big a sent file can be, HJSplit is the right software for you. Best of all, its free.
Introduction & Requirements
Software you must download and install

HJSplit
Required: You need to download and install HJSplit on your computer. Download!
Getting Started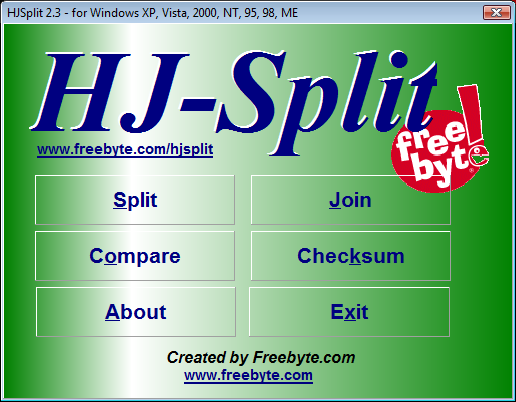 Open up the program and check out the very simple interface. There are 4 choices, but for this guide we will be going over how to split your large files so please hit
Split
. It should be in the top left.
Splitting Files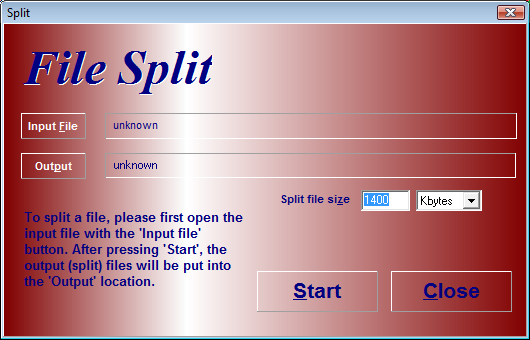 The
File Split
page is red and should only have a few options. There is
input file
,
Output File
and
Split File Size
.
Choosing split size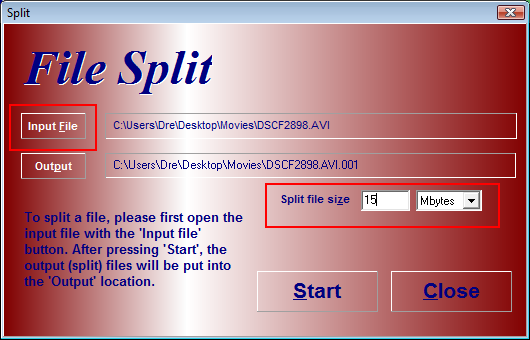 Hit
Input file
and select the file you want to split. I have selected a small movie with a generic file name. As you can see, the
output file
will automatically fill in, with the file name and an extension of
.001
, meaning it is split file #1. Depending on what size you select in this section, you can have many numbered files or very few.
The next portion is to select the size you want your file split into. My sample file is only 45 MB so I have changed the split size to 15 MB each so I can have it conveniently in three packs of 15 MB each. If you are trying to upload a file to Rapidshare or another of the same breed, you will probably want 100 MB pieces. To do this, you can either select
100 MBytes
or
102400 Kbytes
. Please use this size split to your own needs. When you are done, hit
Start
and watch it work. This could take you up to a minute depending on your computer speed.
Finishing Up

When the process is done, go to the folder where you saved the output files and you will see your split files. :)
I hope this guide has been informative and if you have any questions or comments, please post in our AfterDawn Discussion Forums
v1.0
-- 25th December, 2008, First version online (
Andre "Dvdback23" Yoskowitz
)