| | |
| --- | --- |
| MeGUI Installation and Configuration | You are viewing Page 1 of 3 -- Go to page 1 , 2 , 3 |
MeGUI Installation and Configuration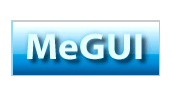 As the number and popularity of consumer video tools has grown steadily, consumer interest has generally been mirrored and encouraged by the developers of free and open source softare. These tools, which often rival similar commercial offerings, allow the hobbyist at home to take advantage of the lastest technology. At this time that means MPEG-4 video, and especially MPEG-4 AVC (H.264).
If you want to take advantage of this new format using the open source and exceptionally high quality AVC encoder x264 you can download one of the unofficial command line releases and open up your command prompt. Fortunately there's an easier way to use x264. There are a number of programs that include built in encoding through x264. Rather than spending days learning how to write an AviSynth script, followed by perhaps days more experimenting with encoder settings, you can open your favorite encoder GUI, select your settings from a list of profiles, fill in some source and destination information, and wait for the output file.
Why MeGUI?
MeGUI isn't the only popular option for encoding with x264. Other programs like StaxRip and AutoMKV offer similar features to MeGUI, which the primary differences being the interface itself. No one tool is
"best"
for everyone, and you should try them out for yourself.
Configuration
Because MeGUI is intended to be used to encode from such a wide variety of sources, from DVD to 1920x1080 HD video, and for nearly any device that supports MPEG-4 video, from mobile phones to Blu-ray players, There are a lot of options to choose from. Fortunately, most of them are set for you automatically, and a number of presets for handling a variety of sources and specialized output formats are available. In addition you may find that tweaking a few settings to match your encoding is easier than it looks. Once found, your settings can even be saved for future use, allowing even a casual hobbyist to make the most of MeGUI's flexibility and features.
The MeGUI Toolbox
Although MeGUI can automate most steps in the encoding and authoring (writing output files) process, at its heart it's a collection of individual tools into a sort of unified interface. In some cases MeGUI merely provides a custom interface to an existing tool, such as DGIndex or x264. In others a tool such as the Bitrate Calculator or AviSynth Script Creator. If you prefer control over every detail to automation you can use these tools to get exactly the results you want.
MeGUI Video Encoder Profiles
Perhaps MeGUI's biggest contribution to the encoding landscape has been the introduction of XML-based video encoder profiles. These profiles can be used as presets for most of the necessary encoder options in both x264 and XviD. Best of all, the use of XML and general settings that describe the encoding job rather than MeGUI specific options means other programs can make use of them. Even if you find that you prefer another program, like AutoMKV, for your encoding needs you may still find use for MeGUI as a profile editor. Just be aware that other programs may add options of their own, or even ignore options used by MeGUI. That's the nature of XML, which is used to describe the settings to MeGUI (or another program), rather than setting CLI options directly.
Other Profiles
MeGUI also uses XML profiles for storing presets used for audio encoding and generating AviSynth scripts. As with video, the audio encoder profiles may be customized to suit your own preferences. AviSynth settings control the automatic selection of video filters, including cropping, resizing, deinterlacing, and denoising. You may find that you have different needs for several recurring encoding jobs. Once you find the correct settings for each you can create profiles to be reused for future use.
Command Line Generation
MeGUI uses a CLI (Command Line Interface) to control various encoders. In the video configuration dialog, where you can view and change nearly every available option, you can also see the command line that will be generated. While not all encoder GUIs allow you to change every encoder setting, most let you specify command line options yourself. You can use MeGUI to show you what options to add to the command line for various settings.
Required Software




MeGUI is a front end, or GUI, for encoding MPEG-4 video using XviD or x264, as well as a variety of audio formats. MeGUI can be used to convert nearly any source to a MKV or MP4 file which can be played on a large number of consumer electronics devices ranging from mobile phones to the latest generation of DVD players. Most of the software required to use MeGUI is available with the program's automated update feature.






AviSynth is a powerful open source editor, commonly used to provide input for encoders such as Cinemacraft Encoder for MPEG-2 and x264 for AVC. It's required by MeGUI for parts of the encoding and editing process. You can find more information on AviSynth in our guide on Using AviSynth 2.5. It includes not only basic instructions for AviSynth, but also descriptions of a number of built-in filters, as well as third party plugins.




Optional Software




Nero's free AAC audio encoder is capable of producing high quality MPEG-4 or MPEG-2 AAC files either by itself, or more commonly through a third party GUI. MeGUI can use NeroAAC as an audio encoder, but due to licensing issues it can't be downloaded and installed automatically. Instead you'll need to download it separately and copy it to the appropriate MeGUI folder. If you don't plan to use the Nero encoder you can skip this step. You'll find more information about this on the next page.




ffdshow is a DirectShow decoding filter for decompressing several video formats, including DivX, XviD, WMV, MPEG-1 and MPEG-2 movies. ffdshow can be used to read source files, as well ass assisting with playback of MeGUI's output. In addition, if you decide to use MeGUI's option to pre-process video to lossles ffdshow will be used for decoding. You can find detailed instructions for installation and configuration of ffdshow's video and audio decoding features in our guide for ffdshow Installation and Configuration.





BeSplit is a tool for correcting headers in AC-3 (Dolby Digital) or OGG files. This allows you to repair these audio files without decoding and re-encoding, which is a lossy process. This is particularly useful if you're editing (cutting) the audio. BeSplit was written by DSPGuru, the author of the BeSweet audio editing tool.
Continued On Page 2



Next we'll walk through installation of MeGUI and use of the automatic update feature.






MeGUI Installation and Configuration
You are viewing Page 1 of 3 -- Go to page 1 , 2 , 3