Review: Zune HD media player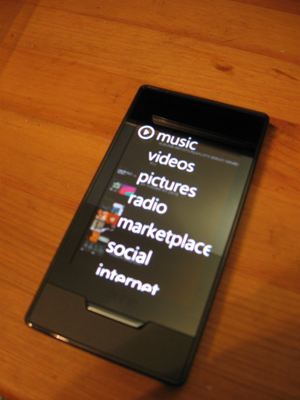 Introduction
The
Zune HD
is
Microsoft's
third hardware revision to the Zune line of media players and by far its best. Despite being an overall excellent audio video player, the Zune has yet to break into the mainstream (under 2 percent of market compared to 74 for iPod) and has even become somewhat of a popular joke:
I will compare the Zune HD to the iPod Touch throughout the review, but really, both have their own pros and cons and they strive for different things. With that being said, on to the player.
The Zune HD has a 3.3-inch multitouch touchscreen using a 16:9 widescreen ratio at 480x272. The screen is .2 smaller than the iPod Touch, but the widescreen resolution is much more efficient for playing back videos, compared to Apple's fullscreen ratio of 480x320.
The player is available in two units, 16GB and 32GB, both at prices somewhat cheaper than the iPod Touch, at $220 and $290, respectively. Both models are flash-based units, and Microsoft even announced they will be
killing all previous Zune models in favor of the Zune HD
.
Separating the Zune HD from the rest of the class is the NVIDIA Tegra HD video playback engine, a completely re-hauled software experience, Wi-Fi sync and HD radio support. The Zune HD also has apps, but as explained on the previous page, there is little there, yet, and certainly nowhere near the experience of the App Store, or even the Android Market.
Build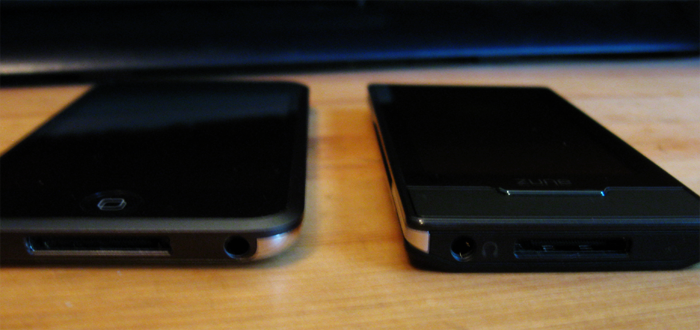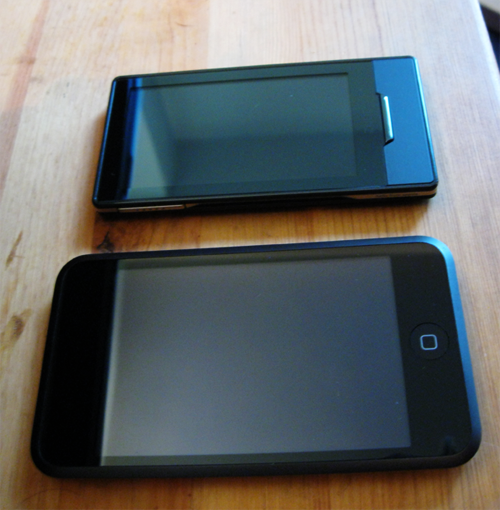 The player is a bit thicker than the Touch, and smaller in terms of height and width, due to the slightly smaller screen. In terms of build, the player feels much lighter and uses real metal so the player feels expensive. The design is very streamlined, and very sleek, it's quite impressive.
There are only three buttons on the Zune HD, the power button, the home button and the media button. There are no physical volume controls, and volume, as well as play/pause, skip, etc, is controlled through one press of the media button on the side. Unfortunately, the media button is very close to the side of the player, making it occasionally hard to press. Further down the side, the player says "hello from Seattle." The power button is elegantly placed at the top of the player and the bottom holds a 3.5mm headphone jack and the Zune-to-PC connector.
The battery is non-replaceable, meaning if it dies, you have to send it in to MS for replacement or repairs.
There is also no speaker or microphone, which aren't necessary (see iPod Touch) but certainly would have been welcome additions.
OLED Screen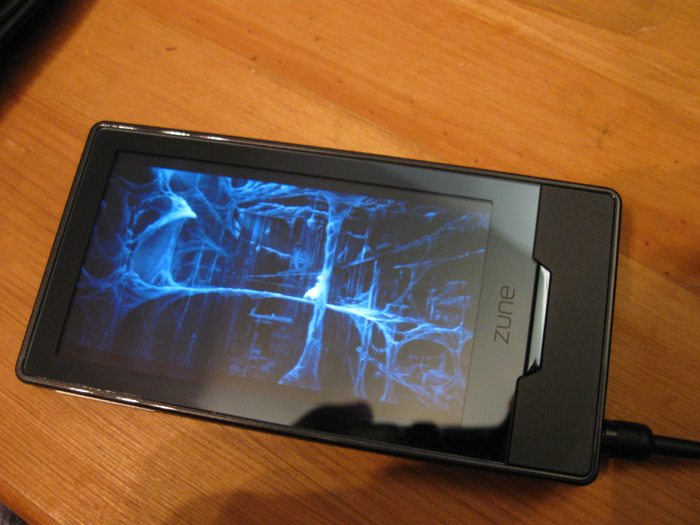 The OLED screen is what really sets the player apart from anything else I've ever used, it's fantastic. As noted before, the resolution is 16:9 widescreen at 480x272. Brightness is excellent, as is color display. As with other players however, trying to use the player outside in direct sunlight may be a bit of an issue however, given the reflectiveness. The Touch plays better in those situations.
Sharpness is the best I have ever seen, and pixelation is a non-issue. Interesting, text is displayed in white on a black background, making it harder to read in the direct sunlight, as stated before.
The powerful screen, due to less power consumption of OLED devices, still leaves the player with very respectable battery life. Microsoft says 8.5 hours for video and 33 hours for audio. I have not tested these numbers, but after listening to the radio and music for over 4 hours straight, the battery indicator has not moved from full yet.
Wireless and Wi-Fi Sync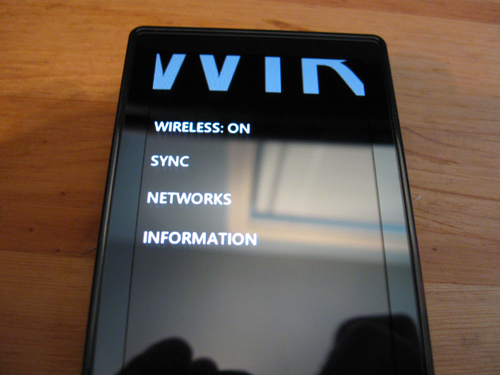 One of the marketable features of the Zune HD, as with previous Zunes, is the ability for wireless syncing with your PC. If you are part of a home wireless network, or just at some hot spot like a McDonalds, you can easily sync your media player wirelessly, leaving the USB cord at home. Make sure to turn on the feature in the Zune software however. Signing into a wireless network on the Zune HD is just as simple, let it search for a network and join it by typing the WEP or WPA password, same as the Touch.
Music Playback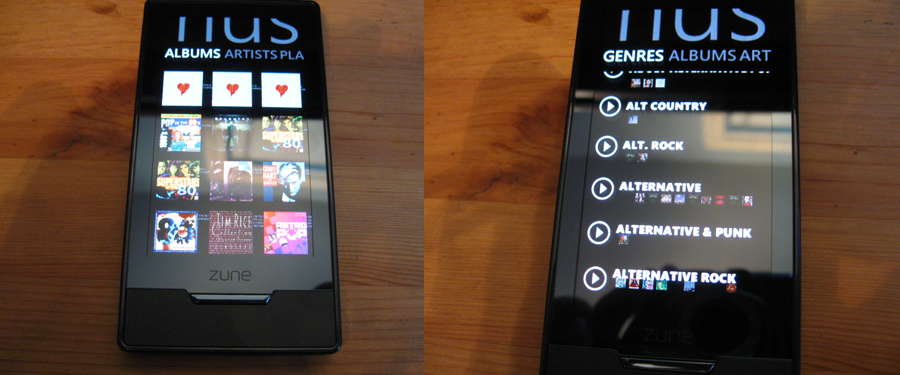 Music playback is great on the Zune HD, and honestly, without all the bells and whistles, music playback is the main reason why consumers purchase a PMP.
Hit the Music entry and you are greeted by a few more options. Songs, Genres, Albums, Artists and Playlists. Pictured are the screens for albums and genres, which are very intuitive. Genres will let you scroll through all your genres with small album art underneath as an added bonus. Albums can be a bit less exciting to scroll through if you do not have all the album art or the proper album art.
More intriguingly is the ability to find a full discography almost instantly pressing one button while listening to an artist. You can also see a group of "related" artists, usually same genre or same time period.
If you use the social aspect of the Zune, you can send songs to Zune friends and it will show up in their Zune 4 software. If your friend does not have a Zune, you can input their email and they will receive a notification with a 30 second clip of the song.
As explained on the first page, the Smart DJ aspect is excellent as well, and will allow you to save many playlists for later, using a Pandora/Genius-esque system.
Now Playing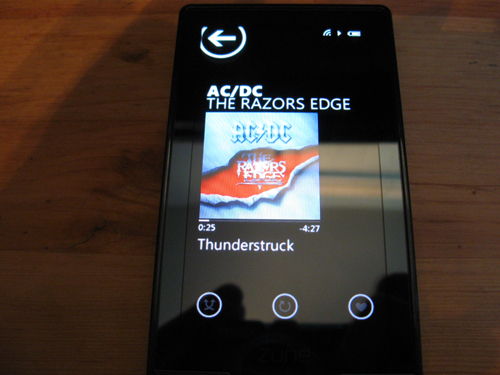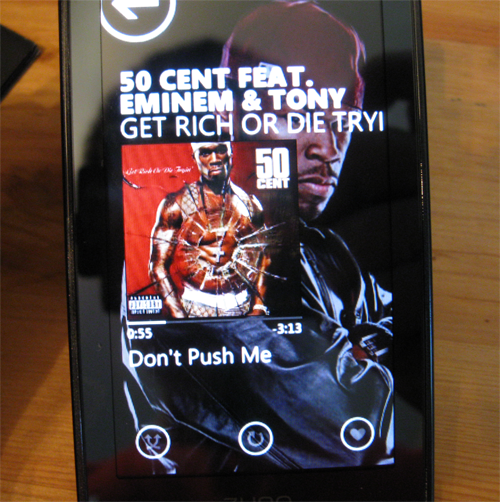 The Now Playing feature, if available, will bring you a nice wallpaper of the artist in the background, while showing off the band name, album name, song title, and album art. You can also choose Shuffle, Repeat, and Favorite from this screen.
If you press and hold down on a music item, you can add them to your Quickplay via pinning, which is explained more in depth in the next section.
Quickplay, Pinning, History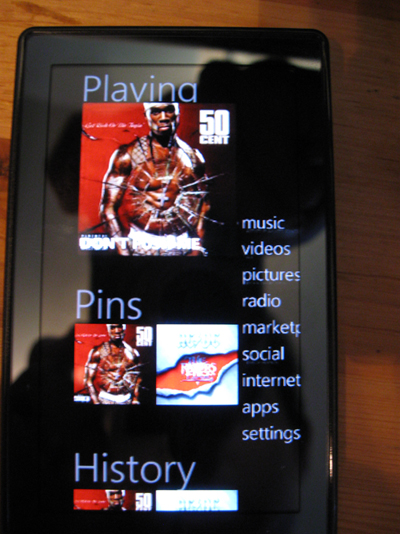 One of the cooler features of the new user interface is on the homepage. Swipe the multitouch to the left and you can see the most recently added music, the Now Playing screen, and "Pins," which is where you can place songs you want to play later. Press and hold the media item and it is dropped into the Pins Quickplay. As you can see, I have pinned the last two songs I played, but preferably you would want to pin songs to queue for later. You can do so for videos and podacsts as well.
The history let's you see what you have recently listened or watched, which can be good if you are forgetful. History will even save your recent radio stations and any app you have opened.
Under
New
, you can see your most recently added music, apps, radio stations and videos.
Codec Support
The Zune HD has support for WMA, WMA Pro, WMA Lossless, AAC (non-protected), Audible, Overdrive and MP3. Anyone looking for OGG or FLAC support is unfortunately out of luck.
For video, the Zune HD supports WMV, MPEG-4, and H.264 video. Notably lacking, as on the Touch and Sony players, is DivX, Xvid and MKV support. In terms of DVR, it will support DVR-MS recorded through Windows Media Center.
Zune Pass
Users can also purchase a Zune Pass for $15 a month, which is unlimited music downloading for as long as you keep the subscription. You are also given 10 free downloads a month, which are yours to keep forever, in addition to the unlimited. However, with the exception of the 10 free per month, if you ever cancel the Zune Pass, all your music goes bye bye, whether you had 1 song or 1 million.
Video Playback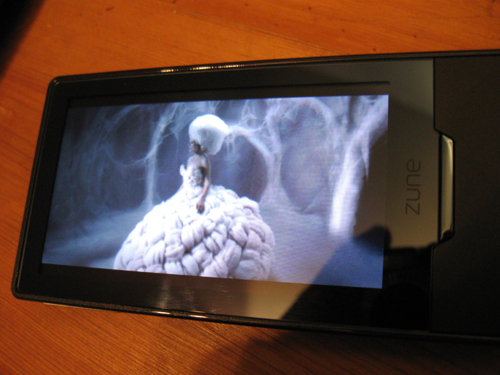 Overall video quality is fantastic and despite the small size of the screen, the color display makes the experience enjoyable. Converting movies or TV shows to the necessary formats can be a pain, but it is exactly the same as the Touch. If you want native MKV, Xvid support,
Creative
players are the way to go.
Notably, any fullscreen video will have the bottom and top cut off a bit, as it is zoomed to fit 16:9. You cannot rotate the screen from widescreen mode, like the Touch, but there really is no reason to.
HD Radio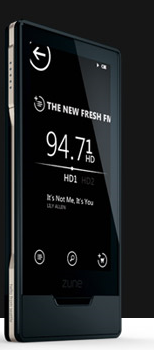 In being completely honest, I was not able to receive any HD radio signals during my time reviewing the model, which could be due to my location, so I cannot fully review this section. It is clear however that you can choose to pin songs from HD Radio stations as well as buy them in the Marketplace almost instantly, including full discographies etc.
Standard radio has static and is what you would expect from FM radio. Scrolling and saving stations is easy as possible as well. There is no AM radio support. HD Radio is certainly a nice addition (when you can get it) but not a killer feature either.
I will update the review when I hopefully get an HD radio signal.
Internet Browser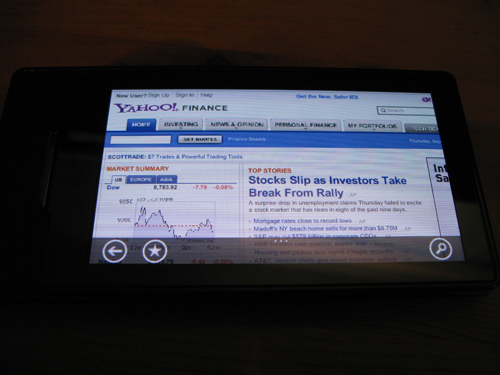 The Zune Internet browser works, and it works pretty well, but it won't kill the iPod Touch, not by a long shot. I actually found the browser to be one of the weaker parts of the Zune HD, due to lack of Flash, extremely slow JavaScript page loading, overly sensitive multitouch, and small resolution for extended reading.
The browser did load many pages very quickly but struggled mightily with others. Yahoo Finance is very slow on the Touch but was almost instant with Zune. AfterDawn loaded abysmally slow, while it loads decently fast on the Touch.
Typing can be a bit of a hassle given the small touch keypad (I don't have large hands and it was still somewhat of a problem), so I would recommend staying away from multi-page blog posts.
The accelerometer (rotating when device is turned) is incredibly fast, and puts the Touch to shame, frankly. The multitouch, although sometimes overly sensitive, works as you expect it to. Pinch to manual zoom, double tap for immediate zoom on a given area, and sliding scroll.
Besides those disadvantages, the browser is certainly capable and a welcome addition to the media player.
You can bookmark using the star, head to new sites by hitting those three dots in the center, and quickly use Bing search using the magnifying glass. Bing is efficient, but it is no Google.
Oh, and don't forget, there is no Flash support and no YouTube support, unfortunately.
Apps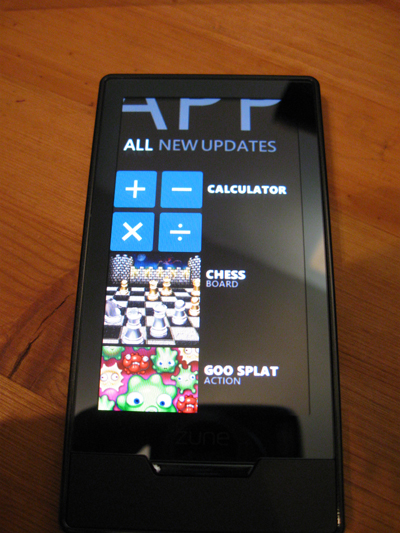 What Apps? There are currently under 10 apps in the Zune Marketplace, Chess, a few 3D games, MSN weather and a calculator. The calculator is nice, but that's really as far as it goes. Almost astonishingly, there is no email app, and none is even being considered, says Microsoft. A couple of pluses however are that Microsoft has already announced that all the apps will be free, and all will be written by Microsoft, or at least under the supervision of the Redmond giant. Announced so far are Twitter, Facebook and a few more games. They are expected within a month.
There are hints however that Microsoft is looking to extend their development to third parties, especially given the launch of the XNA Games Studio 3.1 Zune Extensions APIs.
This aspect may be a deal breaker for many, but not all media players need to be mini computers either.
Syncing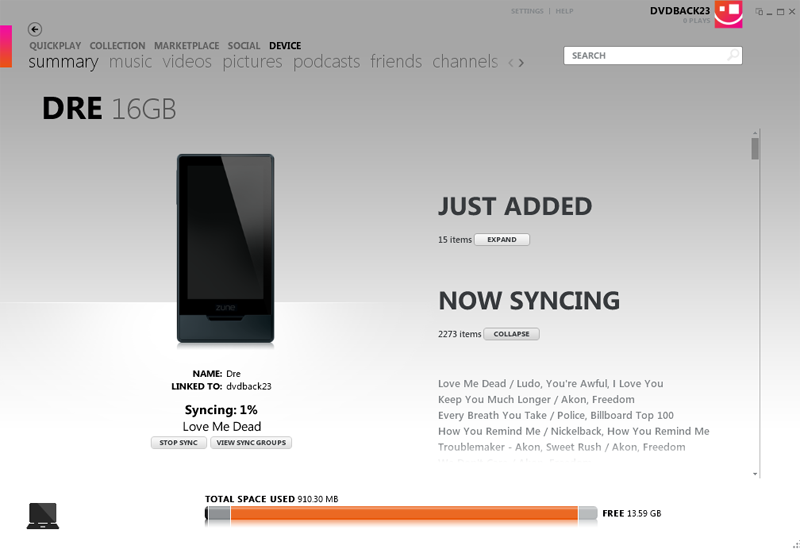 Syncing is not the one click phenomenon it is with iTunes, but it's pretty damn close. Select what music or playlists or even genres or albums you want to sync and the program does the rest. You can also manually sync certain songs or videos, just by dragging them to the Zune icon in the bottom left of the Zune software. Syncing takes as long as an iTunes sync, which, especially the first time, is a real drag.
You always have the option to wireless sync, just make sure you set the options in the desktop software.
In Closing
In my humble opinion, the Zune HD is, an all aspects, one of the best media players in its class. The hardware in itself is beautiful, and the interface and software are visionary, at least from an aesthetic standpoint.
It loses to the iPod Touch in terms of screen size and applications (missing email was most surprising to me) but gains with an impressive feature set.
The player itself works almost flawlessly, and I have found no lag which I find more often with the Touch. Video playback is clearer and color display on the OLED screen is very impressive. Seamless integration of the Zune Marketplace, Zune Social and Zune Software with the Zune HD rivals and surpasses that of Apple with the Touch and iTunes. Quickplay, pinning and history are excellent additions, and will undoubtedly be the norm for future players.
HD Radio is a nice added touch, and the browser is very capable for when you need it (work on that JavaScript boys!)
It will not replace your iPod Touch, especially if you love your apps and YouTube, but it should certainly replace your iPod Touch if you use it for music and movies.
Pros:


+Sleek hardware design, light build and expensive look

+Second-to-none software integration

+Aesthetically astounding, almost flawless multitouch

+Impressive color display on bright OLED screen
Cons:


-Lack of support for Xvid, MKV, DivX is major disappointment, same as with Apple products

-Browser, despite great accelerometer, should only be used casually given small resolution and small keypad

-Lack of apps

-Small flash memory capacities mean not to many HD movies will even fit

-Media control button is hard to press, unusually placed
Overall:


A great value, a new standard, and a must have PMP, despite some obvious flaws.
v1.0
-- 17th September, 2009, First version live. (
Andre Yoskowitz (Dvdback23)
)