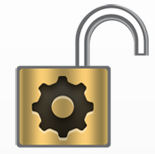 Have you tried to delete, rename or somehow alter a file in Windows, only to be given an error? This can happen when files are locked in Windows because they are in use by another program. Sometimes Windows 7 will be able to tell you exactly what process is using a file, in which case, you can simply stop the process. This isn't always possible however, as you'll often find files locked by Explorer.exe or by processes you simply cannot stop without disrupting your system.

NOTE: You should exercise caution if you are planning to unlock a file that is being used by a Windows process.
---
Introduction & Requirements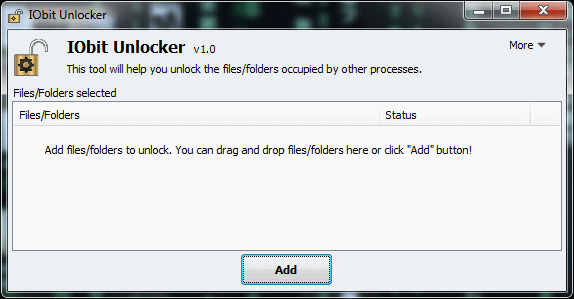 The only program you will need for this guide is
IOBit Unlocker
.
IObit Unlocker is a tool that can identify what process is locking a file and then allow you to unlock it, rename it, delete it and so forth. It works on both x86 and x64 versions of the Windows operating system, up to Windows 7.
It can be useful for any of the following messages:
"Cannot delete file: Access is denied;"
"Cannot delete folder: It is being used by another person or program"
"There has been a sharing violation;"
"The source or destination file may be in use;"
"The file is in use by another program or user;"
"Make sure the disk is not full or write-protected and that the file is not currently in use;"
"Cannot read from the source file or disk."
The installer may contain third-party applications or toolbars that you can choose not to install, so pay attention during the installation process.
Run IObit Unlocker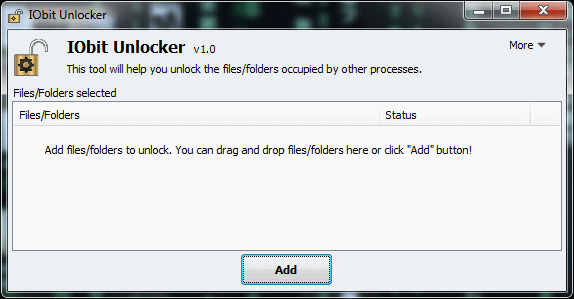 The User Interface for the application couldn't be much easier to understand. You can drag and drop files that appear to be locked in Windows into the application, or use the Add button to locate them.
You can also drag entire folders or multiple files and the program will then start to probe the file and the processes that are using it. If there is something that is stopping you from having full control over the file, then it will identify it and give you a list of options.
Right-click Option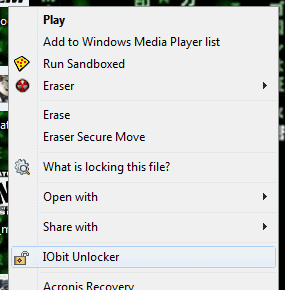 You don't want to run IObit Unlocker manually and drag files into it every time you experience a problem. Thankfully, IObit Unlocker integrates with Explorer so that whatever file you right-click on in an Explorer window, you will get a change to launch IObit Unlocker.
When you launch it, it will load the file you had selected immediately, identify what is using the file, and give you options on how to deal with it
Identifying Locking Process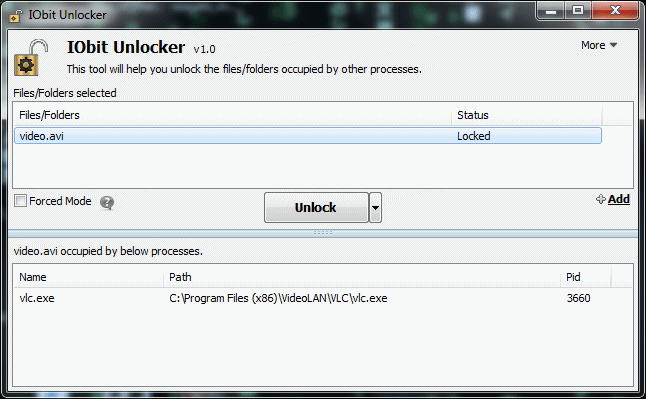 When IObit Unlocker loads a file or a folder, it checks what processes may have a handle on that file. In the example picture above, IObit Unlocked identifies that VLC.exe is using video.avi, and that is why I cannot delete the file through normal means.
If you have selected a folder or a bunch of files, you can select any of the files in the application and it will show what process is locking them automatically, along with the Process ID (PID) and the application path.
NOTE
: Sometimes if you think you have found malicious software and you cannot delete it, IObit Unlocker, through providing the path of the process and the Process ID can aid in removing the malware infection.
Always remember to be cautious when files are locked by the Explorer.EXE process or any System process.
IObit Unlocker Options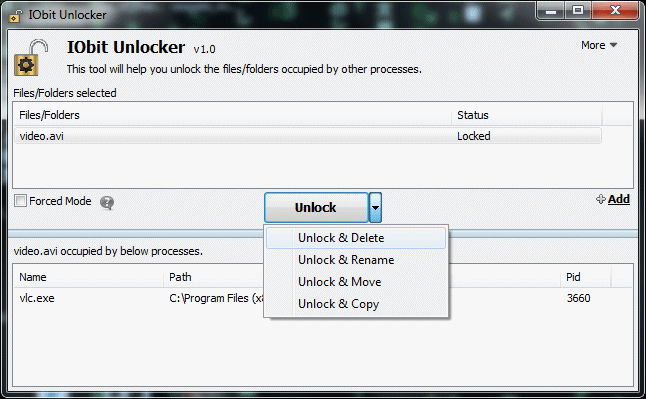 Every file or folder that has been identified as locked can be freed by simply clicking the Unlock button. If you would like to just get rid of the file, then click the button beside Unlock (the downward arrow) for further options.
From this you can rename, move, copy or just delete a locked file from your hard drive.
Success?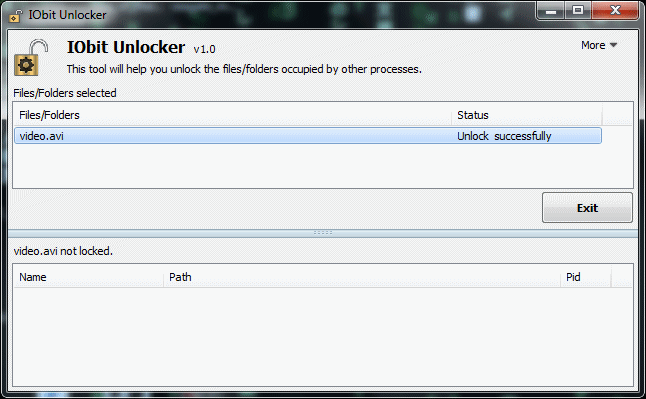 After you have tried to Unlock a file, the status of the file in the user interface should change from "Locked" to "Unlock successfully." If that's the case, then go try and do whatever you were trying to do in the first place, and this time you should not get any of the annoying warnings that you got earlier.
Finish
If everything went well, then great. Check out some of our other
Guides
for most useful tips and information. If you need assistance with anything, check out our
Support Forums
or ask a question in our
Tech Support
area