Copy Protection for PDF files

SecurDisc can also protect sensitive data against unauthorized duplication - allowing data to be read, but not copied or edited.
SecurDisc encrypts files and stores the keys on a copy-protected part of the media. This feature is currently only available for PDFs recorded to DVDs. SecurDisc Viewer, which you were asked to install earlier, can read the protected PDF files, but doesn't allow them to be copied or edited.
Protecting your PDF files

Once again, create a new
SecurDisc Data DVD
compilation. This time, in the left pane, under the SecurDisc settings, tick the box beside
Copy Protection
. It is also a good idea to set a password to disable the copy protection later on if you think this will be required.
Create a Password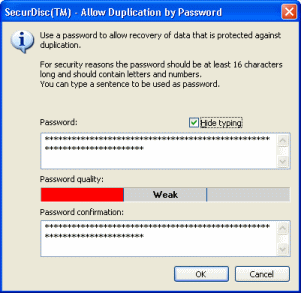 You will now be prompted to create a password that can be used to disable the copy protection being enforced on the PDF documents on the resulting disc. The box that appears is almost exactly the same as when password protecting files. You just enter it twice and it has to be longer than 16 characters. It can be full sentences if you wish. The program will rate the password on how secure it would be against guessing and brute force attacks.
When you have created your password, click
OK
. You can go ahead now and click Next to give the disc a label, and then click
Burn
.
Nero Express event log

Once again, when
Nero Express
is burning your disc, it will list all the SecurDisc features in use on the disc in the
Event Log
. Now you should be able to see
Copy Protection (Disable copy protection by password)
in the Event Log. You will receive a burn report again. Once the disc is finished burning, re-insert it into the drive and Open the contents of the disc.
Are PDFs protected?

Assuming you have
Acrobat Reader
installed on your computer (strange if you had PDF files and no reader..), browse through the protected disc for a PDF file and attempt to open it. What you will get now instead of the document is an error from Acrobat Reader, informing you that the file is encrypted.
So how do you read the protected PDFs?
Reading Protected Documents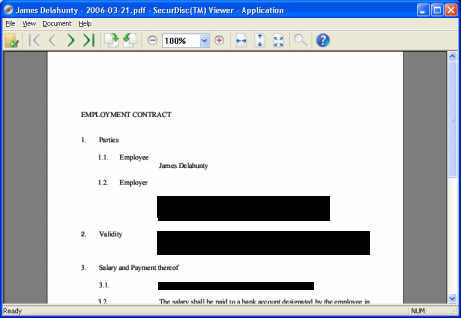 You were asked on the first page of this article to download
SecurDisc Viewer
and install it. If you have not done so just yet, then
download it now and install it
. When complete, open SecurDisc Viewer and click the
Open
button. Navigate to the protected disc and find a PDF. Open it. There you have it, SecurDisc Viewer can access the protected PDF files but nothing else can. Take note of the navigation buttons on the toolbar for multi-page PDFs.
Note: The blacked out areas in the example screenshot are not a result of the copy protection, they were put there by me.
Since I was able to provide a screenshot, one this is for certain, this
"copy protection"
is not immune to the
print screen
button. Still though, it does make things more complicated for whoever wants to reproduce and alter the document. Want to go back to your proper reader and editor? Read on.
Disable the copy protection

If you set a password to disable the copy protection when you were creating the disc, then it is quite easy to disable it. The first step is to right click on the
InCD
icon in the Systray. Again, move the pointer over the drive the disc is inside.
From here, click
Show supported features
.
Supported Features Window

We are not, at all, interested in what features are present on the disc and what are not right now, but if you look at the window that appears, you will notice there is a button you can click that reads, Allow Duplication.
Click
Allow Duplication
.
Enter password to disable copy protection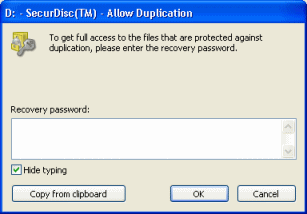 You must now enter that password that you set just a while ago. When you enter the full password, click the
OK
button. After a few seconds of processing now, the PDF files on your disc will be freed and you will be able to open them with
Acrobat Reader
or whatever other application that you use for PDFs.
Next
So now we have covered how SecurDisc fills the disc in order to maximize the amount of data that would be recoverable after damage, and we know that it can asses the quality of the disc to warn about potential impending data loss. We have set a password on folders and files and also digitally signed a disc and showed how it can be verified by a third party. Right now, we just saw how SecurDisc supports copy protection for PDF files, allowing them to be read but not duplicated (not easily anyway). Now there is only one last thing to check, and that is how to
Check Data Integrity
.