Getting Started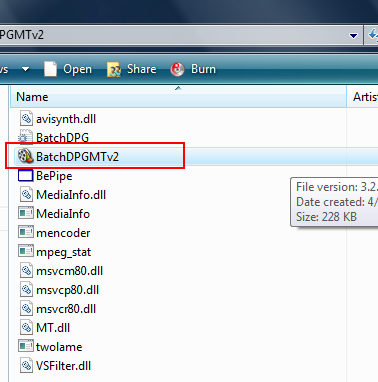 Ok now that you have a BatchDPG folder, open it and find
BatchDPGMTv2
and double click it to open the program. Your folder should look similar to the one pictured at right.
Using BatchDPG
I will go through all the options available in BatchDPG and afterwards I will give a few recommendations.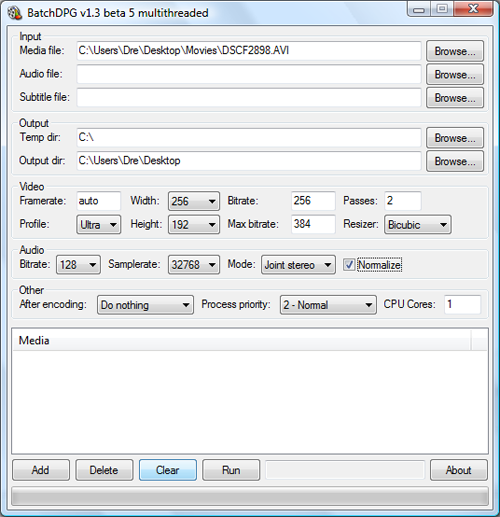 Input
:
Media File:
Hit Browse to select the file you want to convert.
Audio File:
If your video has a second audio file you would like to add, select it here.
Subtitle File:
The program handles
SRT
,
SSA
and
ASS
files, so if your file needs subs, add them here.

Output:
Temp dir:
This is just where the temporary files are stored while the process is taking place. I would recommend someplace you know has space like the C: root.
Output file:
This the where the converted
.DPG
file will be after the conversion is over. I would recommend the Desktop so its easy to find.

Video:
Framerate:
This lets you select the framerate of the video. For 256x192
resolution
(recommended) select 15. For other resolutions, select 20.
Profile:
Ultra
is a necessity here. It will give you the highest quality and tighter compression therefore saving you space on your memory card.
Width & Height:
Automatic, so leave it as the program chooses.
Bitrate & Max Bitrate:
Obviously higher
bitrate
will mean higher quality for your encode. The only downside is bigger filesize but that shouldn't really be a problem. Set the
bitrate
to
256
and then set
max bitrate
to
384
. Higher than 384 is known to cause stuttering in the video.
Passes:
Two passes should be standard here.
Audio:
Bitrate:
You don't need higher than 128 kbps here, its only a Nintendo DS right? :-D
Samplerate:
The DS can only accept three different rates. Choose 48000Hz for Mono, 32768Hz for Stereo.
Joint Stereo:
Preferable over mono as audio is much better quality in stereo mode.
Normalize:
Normalizing "raises the volume of the audio to the highest possible level without losing quality." Make sure its checked.
Finishing Up

Once you have the settings you want, hit
Add
and make sure it shows up under
Media
. When you are ready and have time to encode, hit
Run
and thats it! When its done encoding it will show up in the output folder you selected before and then you can move it over to your DS memory card :-D
I hope this guide has been clear and thorough but if you have any question please ask in our Discussion Forums.
Version History
v1.0 -- First version published by
DVDBack23
. (4/28/2008)