Multimedia playback with Xbox 360

Ever since the Fall update (2007) for the
Xbox 360
console, support for a wider variety of video content has been added without the need of
Windows Media Center Edition
. This article reviews some of the Xbox 360's multimedia capabilities as of March 2008, displaying brief results we had with the console while trying to play back video files of all types with many different streams and settings. This is not a guide for streaming and it does not involve the use of MCE. This article also contains information, or links to information on how you can play supported files on the Xbox 360 console, and maybe even make some previously unplayable files work.
How was testing carried out?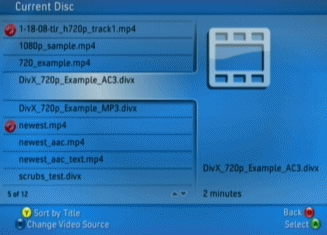 To give the best and most accurate results we simply burned files to a DVD-R and tested their playback directly with the console. This way there are no external factors to consider, such as automatic on-the-fly transcoding with TVersity, or MPEG support through Windows Media Center software.
Our results allowed us to construct a table that basically shows what is supported directly and what isn't, as best we can tell. Now we are fully aware that its not totally efficient, but we are confident that it will satisfy the needs of 98% of our readers and that's not a bad percentage.
What will Xbox 360 play directly from disc?
NOTE
: As those of you who work a lot with video will already undoubtedly know, some of the options marked
NO
above are not marked it because the Xbox didn't support it, but rather because the
container
doesn't. The use of
N/A
is generally reserved for an element not supported by the listed container.
Q. Why include formats/containers that are unsupported in the table?
A. Why not? We wanted to be as specific as our test settings would allow us. It is important to know, for example, that the Xbox 360 will completely ignore
MPEG-1
and
MPEG-2
files stored on a
DVD-R
, while meanwhile it will let you stream
MPEG
if you have Media Center Edition. The inclusion of
MKV (matroska)
,
OGM
and
TS
in the brief testing is simply for clarity, as all three are found abundant on the Internet.
Q. How were Subtitles tested?
A. For AVI, as a longshot, we included subtitles files with the same filename, while basically knowing it was wishful thinking. As for
DMF
, DivX Author software allows you to mux sub streams into the container, which is generally just an advanced
AVI
developed by
DivX Inc.
The
MP4
container also allows you to mux subtitles. Unfortunately, all three failed with the Xbox 360. Subtitles also can be used with at least
OGM
and
MKV
, but the result is marked N/A as the Xbox 360 doesn't support either container to begin with.
Q. Why test Menu and Chapters?
A. As we will see in a paragraph about the DivX support shortly, newer devices that support
DivX
playback can be certified for
DivX Ultra
. DivX Authoring software allows the creation of a
DVD-Video
-like environment all stored in the
DMF
container, which generally carries an extension of .divx. As the Fall update for the Xbox 360 specifically mentioned support for DivX, we thought it would be a good idea to test whether a feature-packed file would work, including an interactive menu, chapter points and subtitles. Unfortunately, the Xbox 360 does not support these features.
Q. What about multi-channel audio?
A. We were somewhat unspecific about the support for
AC3
and
AAC
in various containers in the table. The only noteworthy point to make here is that the Xbox 360 seems very picky about multi-channel AAC audio in an
MP4
container with an AVC video stream, while it plays stereo AAC perfectly fine (from our test results). AC3 seemed to work fine for us while wrapped in the
AVI
container
.
Q. What about HD testing?
A. It is important to mention that based on your equipment, you could get different results. In the
DMF
and
AVI
(almost the same anyway) containers, we had
DivX
video at
720p
which the
Xbox 360
did not flag or throw out an error for. As for
XviD
, we encoded some very large files to 1920 x 1080 to see how the Xbox 360 would react, and didn't seem to find any major problems. Most importantly, we had
720p
and
1080p
tests for
AVC
video in the
MP4
container, and again, received no error (unless audio other than
AAC
was present). We recommend you test this out with your own equipment.
Xbox 360's DivX support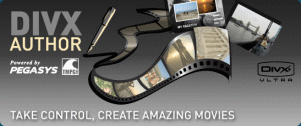 One thing that is clear from our simple playback tests is that
Xbox 360
supports DivX video decoding only and not any of the extra features developed and marketed by
DivX Inc.
We found this very disappointing and would hope that the Xbox 360 could somehow be
DivX Ultra Certified
in the near future after another few media updates. In order to test these extra features, we used DivX Inc.'s own DivX Author software, so the results are pretty clear.
What software was used?
Nero Burning ROM
Used to burn video files as a data DVD.
VirtualDUBMOD
Used to create AVI, OGM and MKV files, and to switch audio streams and subtitles.
TMPGEnc DVD Author 3
Used to produce some of the DivX files that were tested. It outputs in DMF (.divx) container.
MP4Box
Required to create MP4 multimedia files for testing.
YAMB
GUI for MP4Box.
DivX
To decode and play DivX files.
DivX Create
Used to create some DivX files.
BeSweet
Used to encode several audio streams.
x264
Used to encode H.264/AVC video streams.
XviD
Used to encode and decode XviD video content.
StaxRip
Used as a frontend for several tools in the creation of multiple test files.
Finally
The above information shows what the
Xbox 360
plays directly on a disc to the best we could test it. We hope this is useful information for Xbox 360 owners. You are not in the dark if some files don't play for you. We have an article coming very shortly called
"Preparing files for direct Xbox 360 playback"
that show shows how to use many of the above files to make some previously unplayable files work without the need for video transcoding. Until then, please feel free to visit our
Discussion Forums
and discuss any problems or questions you have there.
Version History
1.0, First on Site, 31st January, 2008