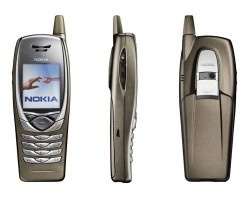 Nokia
today annouced their first WCDMA 3G mobile telephone. Although 3G networks are still under development in most countries, it is crucial for the operators to have products on the market to both gain credibility for the third generation networks as well as boost the general intrest for the new technology.
The key features of the
Nokia 6650
mobile phone are:
·Video recording and playback at 128x96 resolution (subQCIF): up to 20 seconds, including sound
·Person-to-person multimedia messaging, including video & audio clips, to another MMS-capable device and/or email address
·PC Suite for storage and basic editing of video clips
·Connectivity via USB or Bluetooth including audio and infrared
·Illuminated high-contrast, active-matrix, full-graphics color display The phone also offers MIDP Java 1.0 support for downloading additional applications, a WAP 1.21 browser for using mobile Internet services, and a wallet application for mobile transactions with SWIM and WKPI support.
The screen has a 128x160 pixel resolution, and it can display 4096 colors simultaneously. Using the WCDMA network, the phone can download at 128kbps and upload at 64kbps. That is adequate for streaming live video at the 128x96 resolution.
Further details available at
Nokia's website
.