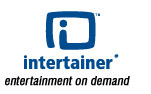 Online movie distributor
Intertainer
will close down its service next week until they can work out a fair business model with the movie industry giants --
AOL Time Warner
,
Sony
, and
Universal
.
Intertainer filed an anti-trust suit against the companies in Septembers claiming that they are deliberately hindering Intertainer's business by boycotting of licesing their movies to the online distributor. According to Intertainer CEO
Jonathan Taplin
the companies are just trying to buy time in launching their own, competing
Movielink
service.
"
We promise to return when there is an environment in which the independent company such as ours is allowed to compete for your business
," said Taplin. "
Whether the current environment of increasing media concentration is good for our Democracy is of course, the ultimate question.
"
Source:
Cnet News.com