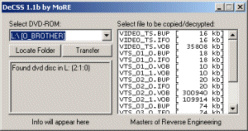 Jon Lech Johansen
, now 19, was found not quilty on Tuesday by the Norwegian court. Johansen was accused of violating computer break-in laws by contributing to the development of
DeCSS
, a tool that circumvents DVD copy protection.
"
I'm very satisfied. We won support on all points. I had figured that we could win, but it can go either way
," said Johansen after the verdict was read.
The three-member court was unanimous in its decision. Hollywood representatives will most likely appeal, because of the nature of the case. The ruling will set a model for courts around the world in future similar cases.
Source:
Wired