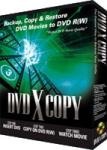 The famous DVD copier programs receive yet another update.
DVD X Copy XPRESS v3.0.2:
Fixes drive speed error cause at beginning of burning session.
DVD X Copy GOLD v3.0.2:
Now contains the latest version of DVD X Copy XPRESS.
DVD X Copy XPRESS is a DVD copier program that uses a lossy compression method to shrink the video stream, so a that a movie fits to a single 4.7GB DVD-R. The GOLD package contains the XPRESS and the original DVD X Copy, which is a lossless DVD copier that can split the movie for buring it to two DVD-R blanks if the movie exceeds 4.7GB capacity.
Get the goods from
321Studios