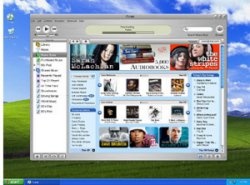 Apple Computer
has launched the Windows version of its popular
iTunes music store
.
iTunes music jukebox
software allows Windows users to access the service that has been available to Mac users since April, 2003.
The software is free, and offers the same catalogue at the same prices as the Macintosh version. It also has the same look and feel as the Mac version, and it supports both AAC with
DRM
, and MP3. Microsoft's Windos Media Audio format is not supported.
"
This is not some baby version of iTunes or the music store,
" said Steve Jobs, Apple CEO. "
This is the whole thing.
"
Making a "cripped" version of iTunes would have made little sense, since competing with services like
Napster 2
requires the best of efforts from Apple.
With iTunes for Windows Apple has had to let go of some of their main principles. So far Apple has been proud of their
Macintosh only
-software. But the Windows market was just too big a possibility to waste to cockiness.
Source:
News.com