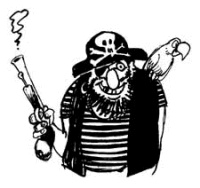 11 people from across the
United States
were indicted on Wednesday for piracy offenses, following massive piracy busts. It was the largest seizure of counterfeit
Microsoft
products so far with the estimated value of the Microsoft products reaching
$80 million
. The series of raids came from a two year investigation into a US-wide piracy ring. Another
$7 million
worth of pirated
Symnatec
and
Adobe
software was also uncovered.
'Operation Digital Marauder'
involved the use of three search warrants and eleven arrests in
Washington
,
Texas
and
California
.
The suspects were allegedly involved in illegal media replication, printing of counterfeit documentation and distribution of counterfeit software. Some Microsoft products found included
Microsoft Office
,
Windows Server 2003
and
SQL Server
.
Tobias Grace
and
Sanh Thai
, two of the suspects, allegedly ran a counterfeit site in
Los Angeles
where they illegally copied Abode and Symnatec products. The
FBI
raided the site and seized the equipment in April this year. They contacted a San Francisco printer,
Thanh Tuong
, who copied the software documents from Microsoft and other products. These documents were delivered to a number of customers, including
Arnica Grace
, Tobias Grace's sister, for distribution in Texas.
Microsoft has been aware of the scam for about three years now, as people had called for tech support, to find out that they had purchased the pirated software. Company investigators assisted the FBI in its investigation. Tobias Grace was alleged to have illegally obtained goods from Microsoft workers who abused Microsoft's internal ordering systems to obtain the products for virtually nothing.
Source:
The Register