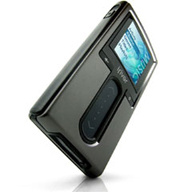 The emerging leader in digital entertainment,
iRiver
, announced the
H-10
, a new MP3 portable HDD music player with 5GB of internal storage and an array of features. Since the device is much smaller and lighter than most other players, it can be put into the pocket-able jukebox category. It gives customers the option to use familiar folder navigation to sort through files more easily. It comes bundled with earphones, carrying case, USB 2.0 and AC adapter. Of all the new features, the most noticeable is the addiction of a new LCD colour display, and also allows you to listen to FM radio stations.
"This 5GB player is so feature packed, that it will also appeal to business users too as it can also be used as a voice recorder and hard disk storage drive. This makes the H-10 an ideal travel companion"
said
Dushyant Nagpal
- Brand Manager for iRiver in UAE.
"iRiver has done it once again. Delivering an outstanding product with such power features not yet seen in products currently prevailing in our region. This truly is a honour for us to be able to bring the H-10 to UAE where currently the sales of hard disk drive players is on the rise"
said
Ashok Daryanani
- General Manager Sales and Marketing, Space Distribution, Dubai.
Source:
AME Info