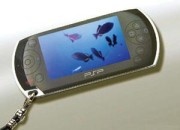 We reported a few days ago that the new
Sony Playstation Portable (PSP)
was
set for release
in the United States on March 24th 2005. However on that article we did not have a list of the initial game released that will be offered for the new handheld console as they hadn't been released. So for your convenience, here are the games that will be released in the first week.
Ape Escape: On the Loose (SCEA)
ATV Offroad Fury: Blazin' Trails (SCEA)
Darkstalkers Chronicle: The Chaos Tower (Capcom)
Dynasty Warriors (Koei)
FIFA 2005 (Electronic Arts)
Gretzky NHL (SCEA)
Lumines (Ubisoft)
Metal Gear Acid (Konami)
MLB (SCEA)
MVP Baseball (Electronic Arts)
NBA (SCEA)
NBA Street Showdown (Electronic Arts)
Need for Speed Underground Rivals (Electronic Arts)
NFL Street 2 Unleashed (Electronic Arts)
Rengoku: Tower of Purgatory (Konami)
Ridge Racers (Namco)
Smartbomb (Eidos Interactive)
Spider-Man 2 (Activision)
Tiger Woods PGA Tour (Electronic Arts)
Tony Hawk's Underground 2 Remix (Activision)
Twisted Metal: Head On (SCEA)
Untold Legends: Brotherhood of the Blade (Sony Online Entertainment)
WipeOut Pure (SCEA)
World Tour Soccer (SCEA)
The release date for the Sony PSP in Europe has not been announced as it appears Sony may be forced to delay the European and Asian launches.
Source:
Spong