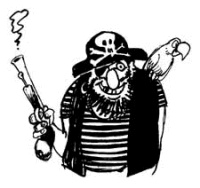 Jayanti Amarishi Buhecha
has been sent to prison for three years accused of being a major distributor of pirated DVDs of
Bollywood films
. He was found guilty of two trademark offences last month, and sentenced at Harrow Crown Court, London, on Tuesday. He was called one of the biggest Bollywood pirates in the UK by the Judge commenting on the £26,000 per month he made from the illegal trade. The
British Phonographic Industry (BPI)
worked for two years on the case.
Fake DVDs were manufactured in Pakistan and Malaysia and sold on wholesale to shops by Buhecha, who traded in counterfeit DVDs in 2002 and 2003. An operating was launched against Buhecha in 2002 following complaints about his illegal activities. The Judge in the case said that a heavy penalty was needed because of the enormous amount of financial damage he had done to legitimate business.
In December 2002 he was caught with 1,000 pirated DVDs in his car. Despite being arrested and bailed he was caught yet again in 2003. At his home and a lock-up, 18,000 pirated DVDs were discovered along with faked inlay cards. Buhecha was once a legitimate distributor of Bollywood movies but was suspended and sued by his employers for dealing in illegal copies of Bollywood classic
Mohabbatein
.
Source:
BBC News