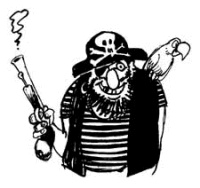 Following an investigation by the
FBI
into the Internet's underground
warez
scene, three members of a global computer piracy ring have pleaded guilty to distributing millions of dollars worth of games, software and movies all over the world over the Internet. The men pleaded guilty in U.S. District court to federal copyright charges, becoming the first people convicted in what the U.S. Justice Department said was the largest-ever investigation into software piracy.
"It's a competition of different groups racing to release pirated software over the Internet,"
said
Seth Kleinberg
, a 26-year-old Los Angeles man who, with a high-school education and a home computer, cracked the computer industry's toughest copyright protections. He faces five to six years in prison when he is sentenced in July.
Jeffrey Lerman
, 20, a University of Maryland student from Long Island, and
Albert Bryndza
, 32 of New York also pleaded guilty.
The investigation, dubbed
"Operation Higher Education"
spanned across the United States and about a dozen foreign countries, prosecutors said. The FBI has recently built a brand new state-of-the-art computer crimes facility to deal with Internet based issues like Software piracy.
Source:
Yahoo