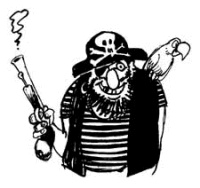 A French Appeals court has ruled in favour of a person who downloaded about 500 copies of movies off the Internet. This ruling was reached because the movies were seen as private copies which were not re-distributed and also this person had paid a tax on blank DVD media that would be shared with the entertainment industry. The source article is in French so using a rough translator its hard to find further details but from what I can see, nothing was said about how he actually downloaded the movies.
If he downloaded them through P2P then it would more than likely that the movies were re-distributed, or parts of the movies, which would be illegal. Also not much was said about the type of downloads they were, whether they were copied from theatres before official release date, or
DVDRip
copies. Nevertheless, it's a good decision for a court to come to when you consider he had already paid extra tax on the blank media.
Obviously it would be more profitable for the entertainment industry to receive full price for someone acquiring a movie, which is why they are trying to close down all the resources online that allow people to share movies and other copyrighted material with each other. However, while doing this, they still also try to get blank media and portable music player's taxed to get even more money, just in case you decided to copy something copyrighted onto them.
Sources:
La vie du net (French Source)
Slashdot