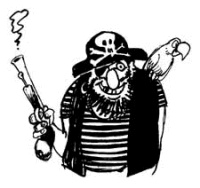 Two men who were allegedly members of an Internet piracy group known as
DrinkOrDie
have been convicted of conspiracy to defraud.
Alex Bell
, 32, of Grays, Essex, and
Steven Dowd
, 42, of Newton-le-Willows, Merseyside are just two of 60 members of the group that were arrested. They denied that they downloaded pirated software for profit and said that they simply wanted to check the software before purchasing it. They were among eight Britons arrested by the
National Hi-Tech Crime Unit
in December 2001.
Det Con
Kevin Brownless
, one of those who led the inquiry in Britain said it would be wrong to think of the group as a bunch of
Robin Hoods
. He said a conviction would send a message out to other British software pirates and maybe deter them from their acts. DrinkOrDie is estimated to have released literally billions of dollars worth of pirated software on the Internet, free for people to download.
"Software which ends up on the shelves of shops like PC World represents years of work to produce that product. Huge amounts of money are spent on research and development and the only way that can be reimbursed is by people paying for software in the appropriate way and not downloading it for nothing. People have got to realise that the people who create computer software are entitled to the protection of the law and those who break the law will be dealt with by the courts."
Det Con Kevin Brownless said.
In Australia,
Raymond Griffiths
is still fighting against extradition to the United States. An
NHTCU
spokesman said there were four different groups involved in the network incl.
Suppliers
,
crackers
,
testers
and
packagers
. Suppliers are the ones who actually obtain the software. It is then passed on to crackers who reverse engineer it, removing or disabling any protection. Testers would then test the cracked software thoroughly before passing it on to packagers who would pack the software into files and upload to many servers around the world where other people could download it.
DoD members are also in trouble for using stolen credit card numbers to obtain some of the software that they released on the Internet. In one case a stolen card was used to supply software worth $4,000 (£2,200). The network was targeted after US Customs managed to find informants like
Kent Kartadinata
and
James Cudney
, who both gave evidence by videolink at the trial of Bell and Dowd.
Source:
BBC News