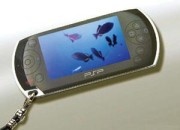 If you own a
Sony PlayStation Portable
console and also for some reason have a slight interest in the type of material an average edition of
Playboy
would offer, then you will be glad to know about Playboy's
"PlayboyStation Portable"
. According to Playboy, it is available for free, in the form of two non-nude picture galleries and one free video. Playboy subscribers however have access to premium nude content.
Playboy has said it has taken some
"sci-fi"
themed pictures of model
Amy Cooper
that has been formatted to display perfectly on the wide Sony PSP screen. They also did the same thing for Apple's iPod music player, which they called simply, "iBod". Sony released the PlayStation Portable in the U.S. in March and managed to sell over half a million copies in a week. However, I do not think that there is any need to introduce anybody here to
"Playboy"
as I'm quite sure you know just a little about the publication already!
Source:
Reuters