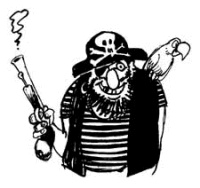 This week, one of the biggest and most anticipated movies of the year opened in theatres all over the world.
Star Wars Episode 3: Revenge of the Sith
showed millions of fans finally how Anakin Skywalker becomes Darth Vader and is packed with tonnes of special effects and action scenes. News coverage on TV stations, in newspapers and on the Internet covered the opening of the movie very well but suddenly the focus has gone off the movie and on to an occurrence that happens much more regularly.
On Wednesday night, a copy of the new star wars movie appeared on the Internet and spread like wild fire (as one would expect). It is a full
Workprint
copy of the movie featuring two massive timers on the top of the video. The fact that this is a workprint means that this originally must have come from
"inside"
. This was not made by someone with a concealed camcorder in a movie theatre. My question is simply; why would the media make such a fuss about this?
I think it is safe to say that most major movies appear on the Internet within days of its release in movie theatres.
Cam
and
Telesync
copies of movies are not rare and I'm sure you've seen the ad's at your local cinema warning you not to copy the movie from the screen with a camcorder, or face the consequences. The
MPAA
has condemned the individuals responsible for these copies but they need to look a lot closer to home to find the ones responsible for the Star Wars copy.
In September 2003,
AT&T Labs
published a study that basically told the
MPAA
to
"stop leaking your own movies"
, blaming industry insiders for a huge majority of movies that appear online before they appear in theatres. Perhaps the Star Wars copy would have never appeared online at all if more care had been taken?
"There is no better example of how theft dims the magic of the movies for everyone than this report today regarding BitTorrent providing users with illegal copies of 'Revenge of the Sith',"
MPAA president
Dan Glickman
said.
While copies of Revenge of the Sith are in fact available to download on BitTorrent sites, they did not originally source on a BitTorrent tracker, regardless of what Glickman believes. One has to wonder why the focus is immediately put on to the people (the star wars fans) who are downloading and sharing this copy of the movie with each other, and not on the industry insider who is responsible for the leak in the first place or the pirate on the street selling the movie. This copy probably was picked up on the street before it was even put on the Internet.
There is no charge to download and share the movie on the Internet, whereas on the street you will have to pay for it. Nobody on the Internet sharing this movie is making money from it, and nobody who was responsible for releasing it in the first place is making any money from it, it's a hobby more than anything else to these groups who compete with each other to make major releases like this. It is also quite interesting to see how many of the sharers would not even think of watching this workprint copy of the movie before seeing it on a big screen first.
I had a look over a few forums and read some live conversations on
IRC
channels and the general attitude was that the quality isn't good enough for such a movie for a first time viewing, but will do perfectly for viewing after seeing it properly until it's released on
DVD
. In fact, many people are seeing this as a sort of
"collector's item"
. The fact that it's a workprint copy still including its original timers really gives some star wars fans reason to hold onto a copy of it(maybe they feel some kind of
"magic"
about it just to have it like people do with bootleg copies of their favourite artist's music), whether or not they buy the retail DVD later.
A very good example of how leaked movies become collector's items is
Apocalypse Now
. A workprint copy of this excellent movie appeared online many years after its filming. In January 2004 a workprint copy of the movie appeared online, a massive 289 minutes long; 6 SVCDs in total. It was a rough copy that the director had put together and included some never before seen stuff. For movies fans, this was huge, as it's the only print that ever leaked so you can see why it could be seen as a collector's item, even though it apparently had terrible quality.
To sum this all up, the media is paying too much attention to the star wars leak and the movie industry needs to start pointing the fingers at its own people instead of
P2P
users/developers. If the media reported on every leak of a major movie, it is all we would ever read. However, in many countries in the world downloading movies is illegal, even if you have seen it in theatres already simply because the movie studios are not compensated for it but in some countries it is legal to download.
However, in my own personal opinion, I don't see how this leak has taken any
"magic"
at all from the movie. It is most likely that some revenue will be lost because of it, but this time, the finger should be pointed at the media that made such a huge fuss over such a regular thing and simply alerted the general public that the leaked copy existed and even explained in some cases how easy it was to download.