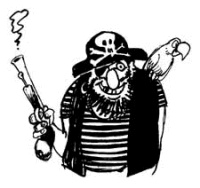 On 1st July it will no longer be legal to download copyrighted material from the Internet in Sweden. It has always been illegal to distribute copyrighted material on the Internet without permission however. The new law also aims to deter people from making copies of CDs and DVDs by charging a blank media levy. The price of a five gigabyte
DVD
is expected to rise from 10 kronor to 30 kronor. Members of the parliament argued that musicians and film-makers for example, have the right to receive proper payment for their work.
The law also makes it illegal to copy an entire book.
"Every worker should be entitled to a reasonable salary,"
Left Party member of parliament
Tasso Stafilidis
said. One huge Swedish torrent site,
The Pirate Bay
, has already a message on the main page of the site saying
"By the way, we will NOT shut down the 1st of July."
It is still legal to make backup copies of your CDs and DVDs however for your own personal use.
Source:
ABC News