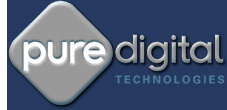 I'm sure most people who read this news article will have used a disposable camera at some point before. They are useful because generally they are cheap, and allow you to take a certain amount of photographs which you can then get developed, but the camera cannot be used again. Would you have ever thought some company would attempt to do the very same with a digital camcorder? That's exactly what
Pure Digital Technologies Inc.
has developed.
The 5.5 ounce,
MP3
player sized disposable camcorder can record about 20 minutes of footage. You hold it vertically to record a video properly. You can see what you are recording through a 1.5 inch colour screen. It also has three buttons, a start/stop record button, a play button and a delete button if you are not happy with the recording you have made.
CVS Corp.
stores will sell the $29.99 device and will process it for $12.99 and return a
DVD
.
According to
Grant Pill
, the director of photography and imaging at CVS, the disposable camcorder is ideal for those who don't want to spend hundreds on a camera with lots of complicated controls. He acknowledged that the camcorder's recording quality will not be near as high as some profession camcorder models, but will have VHS-like quality. Now the question remains whether consumers are willing to spend $29.99 and then the cost of processing for 20 minutes of audio and video.
Source:
ABC News