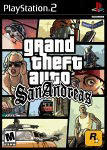 As I'm sure most of you already know,
Grand Theft Auto: San Andreas
has been rerated to
AO
(for Adult Only). Previously the game had been rated M, which means Mature (suitable for persons 17 and older). Now it is rated AO for
"Blood and Gore, Intense Violence, Strong Language, Strong Sexual Content, [and] Use of Drugs."
This is all a result of the
"hot coffee"
mod that unlocked sex minigames which could be played after girlfriend missions.
The decision for the rerating of the title is the result of an investigation by the
Entertainment Software Ratings Board (ESRB)
. The biggest difference now is that many huge retailers refuse to sell AO rated videogames. Target and Best Buy already issued press releases saying they are removing the game from the shelves.
Take-Two interactive
issued a statement about the AO rating.
"Rockstar Games has ceased manufacturing of the current version of the title and will begin working on a version of the game with enhanced security to prevent the 'hot coffee' modifications,"
the statement reads.
"This version will retain the original ESRB M-rating and is expected to be available during the Company's fourth fiscal quarter."
The company will also release patches for the existing copies of the game that will lock the sex minigames and prevent the patch from making them playable.
Source:
GameSpot