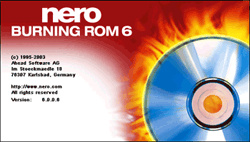 We received word a few days ago that
Nero 7
will be available for purchase on approximately October 10th. It will be available at retail stores and of course through the Nero webshop in the second week of October. No details on price or any new features to Nero have yet been disclosed. Those users who have purchased a copy of Nero 6 from Sept 1st until November 30th 2005 will be eligible for a free upgrade to Nero 7.
To take advantage of the upgrade those users will have to register their current serial number on the Nero website to receive information and instructions on getting the upgrade. This registration will have to take place before December 31st 2005. Customers who purchased their full version of Nero 6 before September 1st 2005 will be eligible for a discount offer for a Nero 7 purchase.
As well as with past versions of Nero, further updates after Nero 7's initial release will remain free of charge top those who purchased Nero 7. Nero 6 updates will continue for the next few months but demo versions of Nero 6 will not be provided.
Source:
Nero