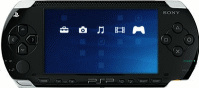 In Los Angeles, some residents are starting to get annoyed with graffiti that has popped up around the city of weird looking characters playing with
Sony's PlayStation Portable (PSP)
console. Sony has not officially endorsed the various pieces of art however, and claimed to be unaware of such a campaign. Also, many of them are illegal as they are painted onto public and private property without any permission. One woman posted on a blog how annoyed she is by these weird looking figures appearing around her neighborhood.
"Is anyone else concerned that Sony PlayStation paid someone to vandalize our neighborhood to sell their latest toy,"
said
Michelle
, who claims to be a Lincoln Heights resident.
"It's quite obviously an advertisement, but when I called PlayStation Consumer Services this morning, they claim to know nothing about the campaign. I guess there's just some clever youngster out here in LH that just really LOVES the PSP and wants the whole world to know about it..."
She also decided to take some action against the works of art.
"I called the city today to have the stencils on the back of Juan's Market painted over,"
she wrote.
"For some strange reason, I'd rather see my friendly local gang lay claim to that wall then have it given over to some crappy corporation and their urban marketing campaign."
One noticeable thing is that they are in fact, very well done and high quality works - so it's probably not just some random kids with a spray can.
Source:
Gamespot