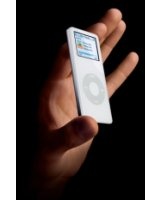 Apple Computer Inc.
is pondering releasing a 1GB version of the
iPod Nano
music player. The company seems to have surprised even itself with the success of the model. Apple is currently shipping approximately 100,000 of the devices each day as the company struggles to keep up to demand for this holiday season. The Nano has proved a hit with consumers despite widely publicised concerns about the protective coating used on the model.
It comes in 2GB and 4GB models currently.
AppleInsider
cites sources that say the marketing team wrangled over the release of 1GB iPod Nano, which could appear as early as next year. According to some members, it would then occupy the same value space as the redesigned
iPod Shuffle
which is expected to be unveiled at the
Macworld Expo
in January.
The source say however that for Apple to make a 1GB Nano successful, it would have to be priced around $149.99, which brings the question of whether Apple can make a good profit from it.
"I think the pricing may be tough at $149, but Apple has proven that customers are willing to pay for style over storage capacity,"
said one Wall Street analyst.
"Apple's profitability should improve as the price of NAND flash has been falling and from what I understand, the recent $1.25 billion in deals with 5 [NAND flash] suppliers through 2010 are favorable for Apple. $149 for a 1 GB Nano sounds economically feasible and may in fact be very profitable."
Source:
Apple Insider