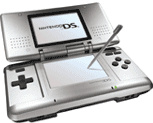 Nintendo Co. Ltd
has announced that sales of the
Nintendo DS
hand-held gaming device have reached 10 million worldwide. As you would expect, the majority of the devices sold were in Japan, with Japanese gamers picking up over 5 million since its launch in December 2004. That makes it the fastest selling video game machine in Japan to date according to the company. In the United States, Nintendo sold over 4 million of the devices since launch.
Games such as
Nintendogs
and
Super Mario 64 DS
have been most popular amongst DS owners.
"It is on the upswing of its life cycle,"
Perrin Kaplan
, Nintendo of America's vice president of marketing, told
Reuters
. After its launch in the U.S. in November 2004, Nintendo ended the year having sold 1.4 million units there. Nintendo also said that the new Wi-Fi Connection wireless gaming service has had over 550,000 unique visitors globally.
The company's
Game Boy Advance SP
sold 4.6 million units in North America in 2005, compared to 7.6 million in the previous year. Both the Nintendo DS and
Sony
's
PlayStation Portable (PSP)
helped lift the U.S. video game industry in the past year. U.S. video game hardware and software sales were $7.6 billion through November 2005.
Source:
Reuters