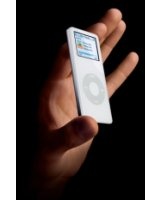 Apple Computer Inc.
has launched a new 1GB version of the popular
iPod Nano
music player. The Nano's size and design are key to its amazing success in the portable audio player market. Apple had indicated that it may release 1GB version of the Nano, to help provide a player for users who needed less capacity than the 2GB and 4GB models that are also available. The model is priced at $149. The popularity of the Nano is driving profits up for Apple and helping to extend the dominance of the iPod in the market.
In addition to the new player to the iPod line-up, the company also announced that
iPod Shuffle
players will now cost $69 for the 512MB version and $99 for the 1GB model. The company saw huge sales of iPods over the holiday season last year, and is attempting to boost profits again by introducing a new Nano which it claims can store 240 songs or 15,000 pictures. The price reduction for iPod Shuffle players will help it to compete more with other low capacity flash-based players.
Source:
Reuters
Thanks to
weazel200
for
News Submission
.