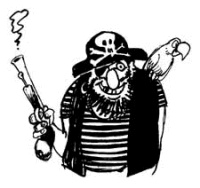 Police in Bulgaria have today charged two men with illegally distributing music and films in in one of Europes' largest Internet piracy groups, according to officials.
The administrator and systems operator of
www.arenabg.com
were taken into custody for putting download links to 20 million songs and hundreds of films on the site, which is one of Bulgaria's most popular pages.
It allowed users unlimited access to all content on the site for a $2.50 monthly fee. The damage to the entertainment industry from this is estimated at around $30 million by Bulgarian Authorities.
"These people are among the biggest Internet pirates in Europe,"
explained
Liliana Yosifova
, spokeswoman for the
Sofia Investigators' Office
.
"We are talking about big losses here."
Also found in the suspects' homes by police in the swoop were three satellite receivers and 200 CDs containing pirated movies, which is said by the
Internet Ministry
to have been a high-speed network used to download fresh music and video content from illegal pirate sites.
Source:
CNET News