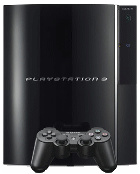 Just days after it's sell out Japanese launch, the
Sony PS3
already has downloadable television content via the Japanese network,
So-net
.
Details are sketchy at the moment as far as pricing and availability, but from what we can tell, these downloads are available in H.264 format, DRM free and available in resolutions of 720p to 1080p. With the console being so new to the consumers, there's no reports yet as of whether or not this content will be able to be retrieved from the PS3's hard drive.
Since these downloads are only visible on the Japanese based So-net, there's no confirmation on the same type of treatment for U.S. buyers when the console is released in the States on the 17th of November.
Source:
Engadget