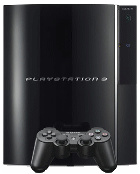 With the
PlayStation 3 (PS3)
console only out in North America and Japan for a matter of weeks, the last thing anyone is wondering is how many units will ship by a date as far away as 2010 - except of course for a new report by
Research and Markets
which predicts 75 million units will have been sold by then. The prediction also hands
Sony
the console war but indicates that the electronics giant will not achieve nearly the dominance it did with its past efforts.
"The console is not expected to dominate as much as its predecessor, the PS2, due to late launch issues in the PAL region and the early lead of Microsoft's Xbox 360,"
the report states. The report is entitled
"The Transforming Global Videogames Market: The Emergence of Next Generation."
Sony does claim to have the most powerful system available to consumers but it's all that power under the hood that caused delays and has kept the price of the console very high. Nevertheless, Sony and the PlayStation trademark has a loyal fanbase and is ready to challenge both Microsoft and Nintendo in 2007 and beyond -- with many more still touting it as the favorite.
Source:
GamesInudstry.biz