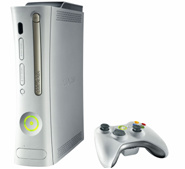 Microsoft Corp.
has reduced its shipping estimate for the
Xbox 360
console. Its Entertainment and Devices division posted a $289 million (&euro223.6m) loss for the second quarter also today. The company expects to ship 12 million Xbox 360 units by the end of June, down from a previous estimate that put the figure somewhere between 13 million and 15 million shipped.
"We are just being cautious about the second half,"
Microsoft CFO Chris Liddell told
Reuters
.
"There's a reasonable amount of inventory in the channel."
Despite posting a $289 million loss, the Entertainment Devices division was responsible for $2.63 billion (€2.03 billion) profit during the second quarter.
Microsoft pointed to repair expenses and the recent extension of Xbox 360 warranty from 9 months to a year in the U.S. and Canada for affecting the division's profitability.
Source:
GamesIndustry.biz