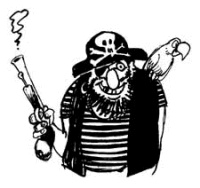 During
Bill Gates
' tour to promote the recently launched
Windows Vista
operating system, Romanian President
Traian Basescu
reportedly told Gates about how piracy helped his country. Appearing at the opening of a
Microsoft
global technology center in Bucharest, he said,
"Piracy helped the young generation discover computers. It set off the development of the IT industry in Romania."
"Piracy helped Romanians improve their creative capacity in the IT industry, which has become famous around the world... ten years ago, it was an investment in Romania's friendship with Microsoft and with Bill Gates,"
he added. There is no reported response from Bill Gates over the comments.
Microsoft aggressively pursues piracy and discourages it on a global scale, regardless of location. Of all the software in Romania, the
Business Software Alliance (BSA)
claims that 72% is actually pirated, estimating it costs companies like Microsoft $111 million in revenue each year.
Source:
The Register