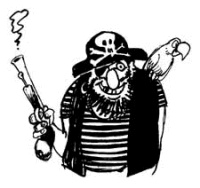 The UK Government is to fund 4,500 new copyright police that will perform raids and seizures against those selling pirate and counterfeit goods. More raids and tougher action has been promised to begin by April.
"From 6 April, there'll be an additional 4,500 pairs of Trading Standards eyes watching counterfeiters and pirates,"
said
Malcolm Wicks
, Trade and Industry Minister.
He added:
"This will mean more surprise raids at markets and boot sales, more intelligence, more prosecutions, and more criminals locked up."
The move has come as the
Department of Trade and Industry
passed responsibility for enforcement of copyright protection to Trading Standards Officers.
The DTI has granted more power to trading standards officers under Section 107A of the Copyright, Designs and Patents Act 1988, along with £5 million to boost the fight against copyright infringement. Section 107A gives officers the power to make
"test purchases"
and to enter premises to seize documents and goods.
"Crimelords currently earn fortunes peddling fake goods, bootleg CDs and DVDs through car boot sales and other outlets,"
Trading Standards Institute chief executive
Ron Gainsford
said.
"People should realize that the proceeds from the sale of these goods are used to finance a whole range of criminal activities."
Source:
The Register