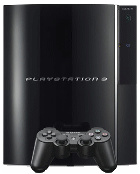 Getting ready for the launch of the
PlayStation 3 (PS3)
console in Europe, retailers are reporting overwhelming demand and huge numbers of pre-orders in comparison to other consoles.
Play.com
is taking six times more pre-orders for the PS3 than for the
Xbox 360
, and 15 times more than
Nintendo
's
Wii
console. Play is offering a PS3 bundle including MotorStorm, Resistance: Fall of Man and Genji for £524.99.
Play is also working to avoid disappointing customers on launch day. The company ran pre-orders for the Xbox 360 and Wii, but due to stock shortages, many customers didn't receive a console on launch day as promised.
"We underestimated the demand and we were very disappointed that we could not fulfil all pre-orders due to stock shortages,"
said head of games
Gian Luzio
.
"We have taken the necessary steps to ensure that customers will only be able to pre-order the system up until Play's allocation has been reached."
he continued.
"We will always want more consoles to satisfy customer demand, however, we are satisfied that Sony are doing all they can to fulfil demand,"
A spokesperson for Sony also told
GamesIndustry.biz
that several other retailers including
Woolworths
and
Amazon
, have reported similar demand for the console.
"With an unprecedented day one shipment of 1 million machines into Europe and a software catalogue of over 30 titles available at launch, retailer feedback has been overwhelmingly positive."
the spokesperson said.
Source:
GamesIndustry.biz