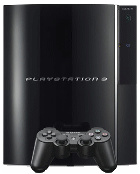 Sony Computer Entertainment
has confirmed how much downloadable
PS3
games will cost UK customers. The range will be between £1.99 and £6.99. A European price of €2.99 and €9.99 had been confirmed on Monday. Of course, some UK gamers were interested to know the price of the content in the UK specifically, since the territory usually suffers higher prices.
For example, the PlayStation 3 (PS3) console will sell for &euro599 in European when it launches on March 23rd (60GB version). In the UK, the console will sell for £425, which converts to €630 (US$834). At the current exchange rate, downloadable games will cost UK gamers more in the higher priced category, with £6.99 converting to €10.35.
For the lower price titles, UK gamers will pay just a tiny amount less, with £1.99 converting to €2.95. Sony has still to confirm the European line-up of downloadable games.
Source:
GamesIndustry.biz