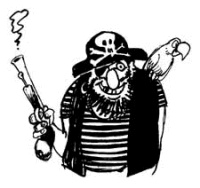 Mexican authorities from the Attorney General's office (PGR), the Public Security Group from Mexico State, as well as local police, have stepped up their anti-piracy enforcement operations in the past two weeks, with significant results. These actions are part of the new administration's programme dedicated to stepping up operations against the organized criminal groups behind music, film and games piracy.
The significant amounts of pirate product seized are leading authorities to conduct follow-up investigations with the goal of determining cracking the structure of these organized criminal gangs. Here are more details on the numerous raids conducted...
Tepito

"Operation Rolex" consisted of raids against 16 warehouses and nine duplication labs in the suburb of Tepito that led to the seizure of 232 burners, 130,000 CDRs and 200,000 inlays. A total of 350 police officers and 20 prosecutors participated in the raid.
A further raid in Tepito against 160 warehouses and three replicating labs which netted 149,000 recorded CDRs, 160 burners and five million inlays. In addition, authorities seized two homemade duplicating blank CDR machines. A total of 250 police officers and 10 prosecutors participated in the raid.
Authorities executed search warrants in an area known as Matamoros Plaza in Tepito on 52 warehouses and one lab, which resulted in the seizure of 83 burners, 125,000 CDRs and six million inlays. A total of 400 police officers and 14 prosecutors participated in the raid

Puebla

A raid against 232 points of sale in the infamous "La Cuchilla" market in the state of Puebla led to seizures of 1.4 million CDRs, 1.2 million films, 300,000 games and 144 active burners. A total of 500 police officers and 13 prosecutors participated in the raid

Guadalajara city

Authorities in the city of Guadalajara conducted an operation in the major market of San Juan de Dios, raiding 95 warehouses, five labs and seizing 395,000 CDRs, 102 burners and almost one million inlays. A total of 150 police officers and five prosecutors participated in the raid
"We believe these raids have dealt a serious blow to the pirate groups, which dominate these markets and demonstrate the magnitude of music and film piracy in Mexico State. The local industry anti-piracy team provided logistic support for the raids. We congratulate the Attorney General's Office, Mexico State's Public Security Group as well as federal and local police officers for another job well done."
Fernando Hernandez
, head of the Mexican music industry association
Amprofon
, said.
Source:
Press Release