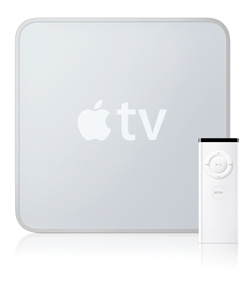 At the
South by Southwest (SXSW)
festival,
Jay Adelson
, CEO of
Digg
and internet tech TV outfit
Revision3
, spoke about how Internet TV will seriously damage cable programming once advertisers turn to the medium and delivering the content to a TV screen becomes simpler. Producers of Internet TV are depending on a new range of set-top boxes, such as
Apple TV
, to boost it significantly.
Devices such as Apple TV will unlock Internet TV content and make it viewable on a normal TV screen and not just with PC equipment. Advertisers are also slowly learning the value of small, passionate audiences. However, a thorn in the side of this forthcoming revolution is, once again, copyright woes from content providers.
Viacom
recently demonstrated such hostility toward the trend by scrapping a deal with
YouTube
, insisting on hosting all its own content and offering a proprietary embeddable player.
AOL
director of creative development
Nicole Carrico
was not impressed by the move, saying,
"If your content becomes successful, it's going to exceed your grasp. They're going to have to relax their death grip."
Source:
The Register