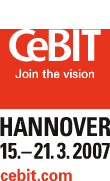 CeBIT
is the world's largest computer expo and it is held each spring on the fairground in Hanover, Germany. This year's CeBIT will be held between March 15th and March 21st, and AfterDawn will be there to bring you news from the expo. With 310,000 square metres of expo area and over 6,000 exhibitors, the CeBIT will hopefully gather over 450,000 visitors from all over the world.
CeBIT was first held as the computing part of the Hannover Fair, but in the 1980s the information technology and telecommunications part was straining the resources of the industry fair so much that it was given a separate trade show in 1986. Each year CeBIT has shown us new and innovative products and hopefully this year doesn't break old traditions.
I (Agent_007) will be at CeBIT throughout the expo reporting happenings from the event. The reports will include news, photos and videos of new products and from the press conferences. You, the readers of AfterDawn, can participate by giving feedback and by discussing the CeBIT expo in
AfterDawn.com's CeBIT pages
. You can also ask me questions and make wishes regarding stories, photos or videos CeBIT. In addition to the official material, I will also be keeping a blog about my time in Germany in general.
If you or your company are present at CeBIT, feel free to come and chat with me. I'll be the
blond guy in the AfterDawn.com T-shirt
.
More info:
CeBIT
Wikipedia