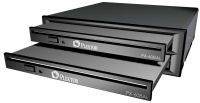 Plextor
has revealed its compact
"dual-bay"
PX-DB600
, which enables two optical slim line drives to be positioned into the space of just one 5.25" drive bay. This is ideal for small form-factor media center PCs. The Plextor PX-DB600 combines with the Plextor
PX-608AL
as
PX-DB608AL
. The PX-608AL is a multi-format
DVD
burner that supports DVD+/-R and
DVD-RAM
.
"By their very nature lifestyle PC systems are compact and designed to take up less space. Unlike traditional desktop systems, extra drive bays are often unavailable, therefore limiting opportunities for adding optical drives. So for those users who do not want to add the extra clutter of an external USB box, the Plextor PX-DB608AL is ideal."
Rudy de Meirsman
, Sales & Marketing Manager of
Plextor Europe
, said.
Plextor will sell the PX-DB608AL product, which will include the PX-DB600 dual bay unit with 2 slim line slots, including interface boards, and slot covers, PX-608AL slim line slot loaded optical drive and a suite of software including
Nero
and
Plextools
.
Source:
Hartware.net