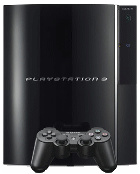 UK retailers were absolutely delighted with the amount of
PlayStation 3 (PS3)
consoles that were sold in the territory since launch, saying it was the biggest ever launch of a
"home console"
.
"Given the relatively plentiful supply, it's fair to say this was our biggest-ever console launch in unit and value terms,"
HMV
's head of games
Tim Ellis
told
GamesIndustry.biz
.
He added:
"We still have some consoles in stock around the chain, as we were able to order plenty, but we expect these to sell these through over the coming days and weeks, especially as new games titles are released."
Retailers will continue to unload stock over the busy Easter period, but some have warned that lowering prices to move stock could harm long term sales.
"It's been a remarkable week for us here at GAME following the successful launch of the PlayStation 3,"
revealed
Anna Macario
, marketing director at
GAME
.
"We have seen huge demand and seen fantastic sales throughout our 400 stores around the country."
Source:
GamesIndustry.biz