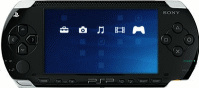 Sony
has decided to cut the price of the
PlayStation Portable (PSP)
handheld console by $30 from tomorrow, April 3rd, 2007. The
PSP
Core System will be marked down from $199.99 to $169.99. Lately there have been rumors of a new smaller and lighter PSP which resulted from comments made by a Sony UK executive, which were later retracted.
A price cut is still a welcome development for the handheld though. Sony has been busy packing as many new features into the PSP as possible and tying it to the
PlayStation 3 (PS3)
console for more features as it battles against the handheld-dominating
Nintendo
. The
DS
handheld console from Nintendo is the undisputed leader of the portable market for now.
Source:
DailyTech