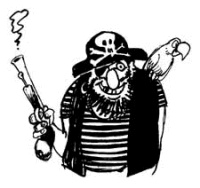 ACID
, or
Automatic Copyright Infringement Detection
, developed by the
Virage
division of
Autonomy
, can scan for and detect illegally posted rich media in any format wherever it is posted, according to Autonomy founder and CEO
Michael Lynch
. The ACID technology was shown off on April 4th in a press conference.
"Acid watches very large amounts of video and it can spot video that is owned by someone else in a highly automated process,"
Lynch said.
ACID could be used as a tool for content providers to find videos posted on
YouTube
and similar sites. Of course, there have been more solutions for this type of piracy shown off recently, but Lynch claims that ACID does not rely on on tagging technology or video watermarking to locate copyright-infringing media. He added that those techniques can be thwarted much easier.
ACID uses Autonomy's
"meaning-based computing"
technology, which allows computers to find relationships within many different types of unstructured data, including text, word processing documents, e-mails, audio and multimedia. Such a service is probably useless against
P2P
services or
BitTorrent
trackers. Hollywood has turned a lot of attention to sites like YouTube in recent months due to the overwhelming amounts of unauthorized clips uploaded.
Source:
Physorg.com