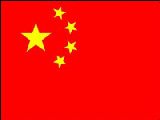 Chinese authorities have destroyed DVDs, CDs, software and illegal publications in the latest campaign to curtail rampant theft of intellectual property. The move follows a U.S. complaint to the
World Trade Organization (WTO)
against Beijing over piracy in the region. Workers across the country burned 30 million pieces of smuggled and pirated audio and video material, software and 11 million copies of pirated and illegally published books and magazines.
"Through the act of destruction, we wish to show to the world the firm determination of the Chinese Government in protecting intellectual property,"
Long Xinmin
, chief of the State Press and Publication Administration, was quoted as saying. He added the campaign also aimed to
"improve the awareness of the general public in fighting against pornography and illegal publications."
Law enforcement officers in the provincial capital of Guangzhou used shredding machines to get rid of 10 million pirated discs and 500,000 illegal publications. China also warned that the U.S. complaints against Beijing in the WTO could damage commercial relations between the two countries.
Source:
Yahoo