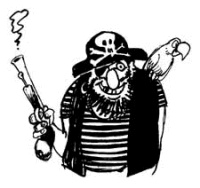 Four men have pleaded guilty to selling pirated software on the Internet auction giant,
eBay
. The four sold counterfeit
Rockwell Automation
software with a retail value of more than $19.1 million through the service, according to the
U.S. Department of Justice
. Eric Neil Barber of Manila, Arkansas; Phillip Buchanan of Hampton, Georgia; Wendell Jay Davis of Las Vegas; and Craig J. Svetska, of West Chicago, Illinois pleaded guilty in U.S. District Court for the Eastern District of Wisconsin.
Each of the defendants now face up to 5 years in prison and a fine of $250,000. Three other defendants have also received felony convictions in the case.
Neil Barber
admitted to 217 eBay auctions for the software, making him $32,500 in profit compared to retail value of $1.4 million.
Phillip Buchanan
sold the software at 67 auctions, earning a profit of $13,100 compared to a retail value of over $2 million.
Wendell Jay Davis
admitted to selling 53 pieces of Rockwell's software and earning $17,000 compared to a retail value of nearly $8 million.
Craig J. Svetska
admitted to 376 auctions, making a profit of $59,700 compared to a retail value of more than $7.6 million. Rockwell Automation produces specialized factory management software, with prices ranging from $900 to $11,325.
Source:
Yahoo (AP)