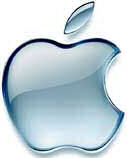 Apple Inc.
sold 10.5 million
iPods
in the first three months of 2007, helping the company to record an 88% increase in profits. Profits rose from last year's $410 million to $770 million. Sales of iPods, along with strong sales for MacBook computers, boosted Apple's sales from $4.3 billion to $5.2 billion.
"The Mac is clearly gaining market share,"
said Apple CEO
Steve Jobs
.
Obviously, the company has said it is
"very pleased"
with its performance in the three months to 31 March, which was the most profitable quarter in the company's history. Demand for iPods rose 24% compared to last year and sales of Macintosh computers rose by 36%.
"The company is growing substantially faster than the market and will continue for some time to come,"
said
Jim Grossman
of
Thrivent Financial
.
Source:
BBC