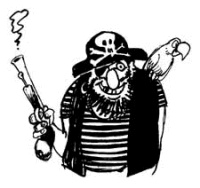 A total of 35 people have been arrested in an Italian town as part of a major crackdown on a criminal gang that was producing and selling counterfeit goods. Those arrested in the Italian town of Pescara included a policeman and a court official. The official from the Civil Court of Pescara and the policeman played a major role in the pirate gang, as did a clerk working for the Ministry of the Interior.
The move, dubbed
"Operation Crack"
, was coordinated by
Aldo Aceto
, the public prosecutor from Pescara, and was carried out by local police assisted by music, movie and business software anti-piracy experts as well as
SIAE
, the authors' collecting society anti-piracy team.
More than 12
CD
burning facilities were found and dismantled in and around Pescara and police officers also seized more than €400,000 in cash.
Source:
Press Release